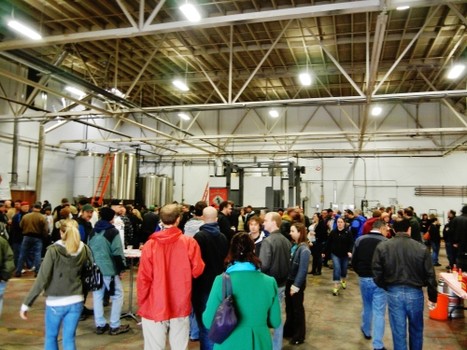 The 3rd Annual Meet the Brewers Festival will take place on Saturday, Feb. 18, 2012, 12pm-5pm at San Jose's Hermitage Brewing Company (1627 South 7th Street) and will feature local craft beer (and some soda) from 15 or so South Bay and Santa Cruz area breweries, including FireHouse Brewery, Tied House/Hermitage Brewing, Faultline Brewing, Los Gatos Brewing, Strike Brewing, Rabbit's Foot Meadery, and more. There will be six mostly South Bay food trucks, including Treatbot, BBQ Kalbi, MoBowl, The Louisiana Territory, Oaxacan Kitchen, and Emergency BBQ. There will also be music and a raffle.
Part of the official SF Beer Week series of South Bay events, ticket prices are $25 per person for unlimited craft beer tasting if purchased in advance ($35 the day of at the door). There is a $5 designated driver fee (no beer tasting), and the event is free for kids under 16.
A capstone event
For many Festival goers, this event will not only serve as the capstone of the SF Beer Week South Bay activities but also the beerfest highlight of the year. For others new to craft beer, this event provides a wonderful opportunity to try different beer styles, meet the brewers who make them, and experience the overall vibe of the South Bay craft beer scene.
Key Contributors
Two of the driving forces behind this year's Meet the Brewers Festival are Carolyn Hopkins-Vasquez, Director of Marketing for Tied House Brewery and Hermitage Brewing Company, and BetterBeerBlog's Peter Estaniel.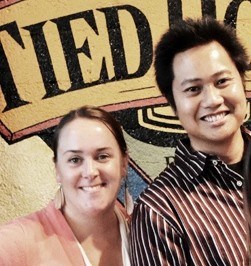 Both Carolyn and Peter are central figures in helping to support the San Jose and South Bay craft beer scene. Both recently answered some questions pertaining to their South Bay and craft beer connections, thoughts on the San Jose area craft beer scene, and ongoing efforts with the Meet the Brewer Festival. This article is Part 1 and consists of Carolyn's answers below. Part 2 consists of Peter's responses.
First off, what is your personal and/or professional connection to San Jose and the South Bay?
I moved down here about 6 years ago, right when I started graduate school. Even though I was attending SFSU, I thought getting out of the City would help me concentrate on the school work, and not be distracted by friends, etc. I knew I'd be rich and famous once I had my degree. Google and Microsoft would fight over me.
So, I started attending mixers through the Chamber of Commerce Mountain View and other professional organizations to meet my future bosses and colleagues. Clearly I didn't start working for those companies, but forcing myself to get out there and meet the community definitely helped me personally and professionally.
As a result, I started sitting on the Board of Directors at the Chamber of Commerce MV in 2011, went through Leadership Mountain View in 2010, and have gotten to know quite a few city leaders, local business people, and made contacts at many corporations. All of these connections are not only great for business, but vice versa. It helps Tied House stay grounded in the community.
As for the beer community, I pushed myself in. No, I forced myself in. Now they can't get rid of me.
When and where did your passion for craft beer start?
I think working in restaurants really got me into it. When I was 21, Redhook ESB was big, and Fat Tire was just hitting the Northern California market. I don't really consider either of those micros any more, but those were probably my first. My sister went to Humboldt State. When I'd visit her, we'd always go to Lost Coast for lunch and stop by Mad River to pick up a case of Extra Pale Ale. At that time, we'd have to go to the side door of the brewery to order it, which I thought was the coolest thing.
You began as a server at Tied House and currently are the Director of Marketing for Tied House and Hermitage Brewing Company. How long have you been with Tied House? Given your perspective, what's your take on the current craft beer scene in the San Jose area? What's your sense of the history of the craft beer scene in San Jose and the South Bay up to today? How has it changed over the recent years? Where do you see it going?
When I started as a server at Tied House 6 years ago, I was, admittedly, a San Francisco snob. I had grown up in the City and thought nothing of the South Bay. After a couple years waiting tables at Tied House, I began to realize what an under-appreciated market we were in.
The beer scene in the South Bay has been around for years. People like Steve Donohue (brewmaster of Firehouse Brewery), Ron Manabe (brewmaster of Tied House), and Peter Cogan (distribution manager) made sure I knew that. Heck, Pete's Wicked Ale came out of this area. I had no idea! It wasn't that the craft beer scene was new; it was just that people like me weren't paying attention. I decided I wanted to do something to help change the minds of other self-admitted snobs.
With the general increase and awareness of all things craft and local, it has been only natural that microbreweries gain more attention. Milestones like the start of San Francisco Beer Week and interest in things like the Great American Beer Festival have helped us gain more visibility. The South Bay is definitely the underdog of the Bay Area beer scene, and I think we actually kind of like that term and own it. Being an underdog worked for the 2010 SF Giants, right?
We're going into our 3rd year of Meet the Brewers, and are still focused on showcasing the South Bay and Santa Cruz regions' best locally brewed beer. It's definitely the biggest South Bay festival during SF Beer Week, and it's a testament to the growth of the scene here. We have new breweries attending this year, and new breweries, beer bars, etc., opening up in the South Bay. It speaks volumes that the beer scene is growing and thriving here in this economy. It's definitely been a slower process getting some people in the area to put down their big brand beer and try something new, but I think the South Bay is coming around.
The first Meet the Brewers Festival in 2010 was history making, the first of its kind in the South Bay. How did it come about, and how has it evolved up to this upcoming third Festival?
Wow, history making? Shucks, thanks. I don't think Peter or I thought about it that way, and still don't. It was just an idea to get all the brewers together, and I happened to have the perfect venue: Hermitage Brewing Company. I actually met Peter by googling Tied House. His BetterBeerBlog came up, and it was a post about his dislike of our beer. So, naturally, I emailed him.
I had the idea of the festival but didn't know how to rope everyone in. Plus, the brewers in the area had no idea who I was. Somehow, I convinced Peter Estaniel, Steve Donohue, and Peter Cogan to help with that first festival. Somehow we pulled it off. We've made some changes since, like not roasting a whole pig, but we've kept the same purpose – to showcase the craft movement in our area. Plus, it's a good chance for the brewers to pal around with each other. If you've never seen a bunch of Steves, Mikes, and Peters in a room, Meet the Brewers is your chance to do so.
What's the support/feedback been like for this festival, from the brewers and the attendees?
It's been fantastic. I think it's something the South Bay has wanted for a while, but just did not have for some reason. I've noticed other festivals and beer related events popping up. I'd like to think it is in some small part due to our festival.
The other thing I've heard from attendees is that the festival is more family friendly than some bigger ones (outside of our area). I'd really like this to continue. It's not just about the beer. It's about community, friends, and family. We've got music and food, and the proceeds go to CanDo Multiple Sclerosis, a national non-profit.
Why should folks new to craft beer and/or the South Bay craft beer scene attend this festival?
One of the things I love is that the attendees can interact with the brewers. There are a ton of festivals out there, but very few where the brewers are there, engaging with people, and answering questions. It's a great way to meet the mad scientists behind the beer.
The festival is the best way to get an overview of most of the breweries in our area. Novice beer drinkers learn they are drinking a hefeweizen, not a heffenizer, and that Scotch ale is not made with Scotch whisky. We've had attendees who say they don't like beer leave telling us they've found their new favorite drink. For the attendees who are already well versed in beer, it's a way for them to try the newest, craziest concoctions from their favorite brewers. It's also just a great crowd overall.
Anything else to add for now?
Nope, I think I've blabbed for long enough.
For Part 2 and Peter's responses, click here.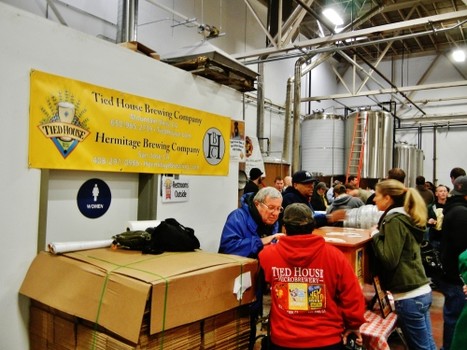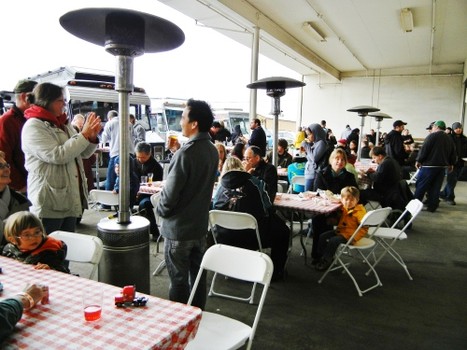 [This post was shared on Examiner.com.]