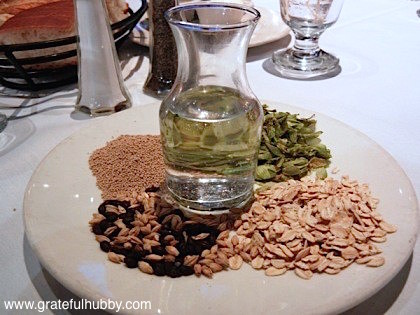 [This post was shared by Andrea on Examiner.com.]
When considering what to drink with a special meal, wine is often what immediately comes to mind. However, beer also pairs very well with different dishes, from appetizers to desserts, and beer pairing dinners are an excellent way to showcase different beer styles and to highlight and accentuate the different flavors found in both beer and food.
California Café Palo Alto's Executive Chef, Mark Pettyjohn, has a love for beer and for the past year has been hosting beer dinners about once a month at the restaurant. When listening to Chef Pettyjohn, one immediately gets a sense of his passion for working with beer and for creating memorable dishes that pair wonderfully with beer.
On February 16, 2012, California Café Palo Alto hosted the Second Annual South Bay Brewmasters Dinner, featuring beers of five South Bay Breweries: Strike Brewing Company, Los Gatos Brewing Company, Tied House, Palo Alto Brewing Company, and FireHouse Brewery. The brewers from each of the breweries were in attendance at the dinner, and the event was part of San Francisco Beer Week.
The meal consisted of five courses, and each course was paired with two beers in similar styles. Diners therefore had the opportunity to compare similar styles of beer and see how they paired with the dishes, deciding for themselves which beer they liked best. It is a fun way to experience beer for the novice as well as for the beer enthusiast. While there is much to be said about the excellent beer food pairings as well as the individual beers, this review mainly focuses on the food.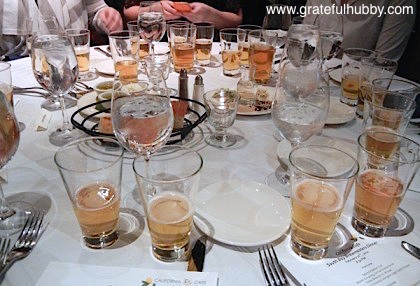 The first course was seared Alaskan cod on a bed of greens, served alongside a lobster dumpling and curried lobster broth. The dish was light yet had a variety of textures and flavors. Many diners remarked that the lobster dumpling, which had a very pleasing dumpling skin and wonderful lobster taste, was their favorite part of the dish. The fresh, crisp offerings from Strike and Los Gatos Brewing – Blonde and Lexington Lager Czech Pilsener, respectively – were fine matches to the first course.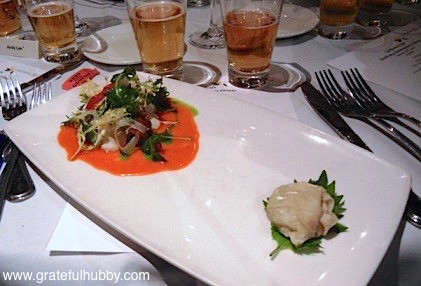 The second course was a trio of rabbit. There was stuffed saddle, herbed loin, and seared rack. Alongside the rabbit were truffled gnocchi. Like all the dishes, the dish was visually very pleasing, and the three different preparations of the rabbit showcased its different flavors. For many, the most flavorful part of the dish was the stuffed saddle, which was slightly reminiscent of bacon. The truffled gnocchi were soft and flavorful and paired very nicely with the rabbit. This course paired well with the Strike Brown and Los Gatos Brewing El Gatoberfest.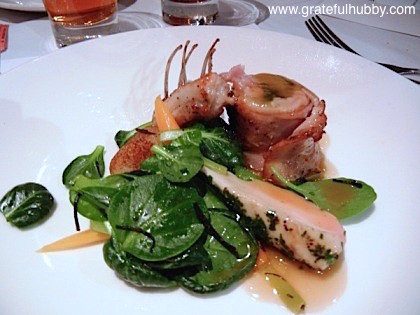 The third course was praised veal breast, served with parsnip puree with roasted wild mushrooms. The parsnip puree and mushrooms were a nice accompaniment to the veal. The paired beers for this course were Tied House Hop X and Palo Alto Brewing Atlas Double IPA.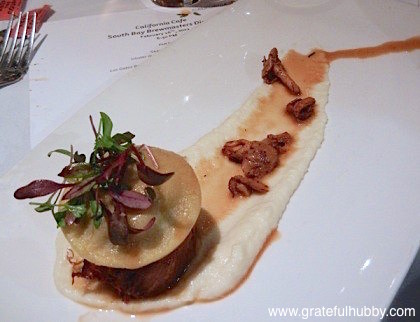 The fourth course was sous vide bison with celery root-horseradish puree and braised fennel. The sides alone would have been a very satisfying dish. Bison meat is lean and can easily become dry if not prepared correctly. Chef Pettyjohn did everything right as his bison dish was bursting with flavor, tender, and just a pleasure to eat. The accompanying beers for this course were Tied House Ale of the 2 Tun Imperial Stout aand FireHouse OTIS (One Tun Imperial Stout).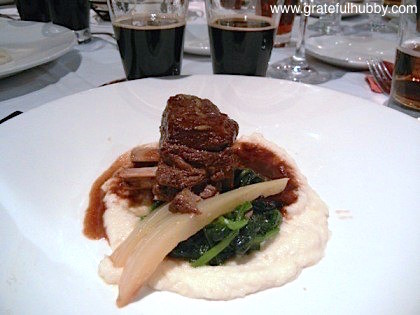 Last but not least was the dessert course – apricot semifreddo with guava and ginger. The semifreddo was creamy and not overly sweet. The dish was the perfect ending to an unforgettable meal. Palo Alto Brewing Nice Lacing Belgian Rye IPA and FireHouse Hops on Rye.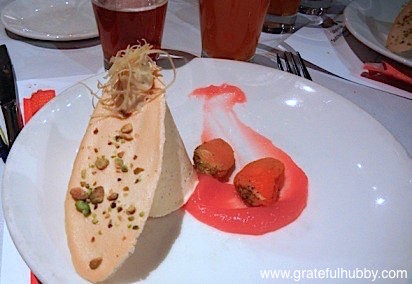 Beer dinners at California Café in Palo Alto are certainly a unique experience, and Chef Mark, Sous Chef Madison, as well as the entire staff, make sure that diners are happy. Something diners should consider before attending a beer dinner is that all courses, except for the dessert course, tend to heavily focus on meat and that, at this point, there are no vegetarian options for the beer dinners. Also, some of the proteins served are somewhat exotic (past dinners featured quail and sweetbreads) and one should consult the menu, which is made available ahead of time, to make sure the items on the menu are something one is willing to try.
Chef Mark is already busily planning the next beer dinner. To find out about upcoming beer dinners and other events at California Café Palo Alto, visit their events page and sign up for their newsletter.
California Café Palo Alto
700 Welch Road
Palo Alto, CA 94304
(650) 325-2233