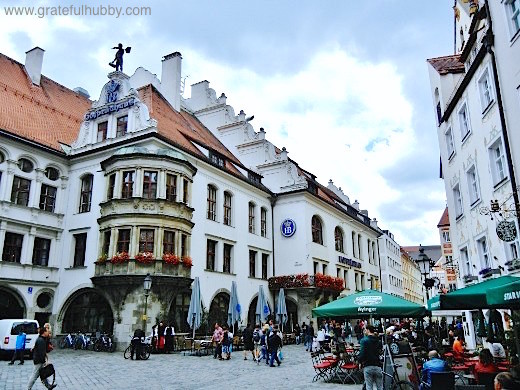 [Updated Fri., Oct. 12, 2012]
The third weekend in September is when Oktoberfest starts every year in Munich, Germany. Its popularity has sparked Oktoberfest-inspired festivities all over the world. Los Gatos Brewing Company already celebrated their Oktoberfest in conjunction with their 20th anniversary on September 15. But thankfully, there are more ongoing and scheduled Oktoberfest events in San Jose and the South Bay.
San Jose
Thurs., Oct. 4, 2012, 6 p.m. – 9 p.m.: Jack's Bar & Lounge in Japantown offers up an Oktoberfest Pint Night. 167 East Taylor St., 408-287-5225. Per their Facebook page: "Oktoberfest! This Thursday for Pint Night we'll have two uber kegs [Gordon Biersch über keg of Marzen. Unfiltered and unpasteurized] with 1 liter steins! There is only a limited supply so be sure to come early!"
Thurs., Oct. 4, 2012, 7 p.m. – 12 a.m.: The Tech Museum of Innovation hosts their monthly After Hours (for those 21 and over) with an "Oktoberfest Meets Science" theme featuring Gordon Biersch Brewing Company. 201 South Market, 408-294-8324.
Thurs. – Sat., Oct. 4 – 6, 2012: Naglee Park Garage celebrates their 6th annual Oktoberfest. 505 East San Carlos St., 408-286-1100. According to the Facebook event page: "Oktoberfest at Naglee Park Garage is upon us! Please join us… (October 2 – 6) as we celebrate our 6th annual Oktoberfest with a week-long special menu. Plus, Thursday, October 4th, we'll be starting a three day run of great beer featuring Hofbräu Munchen and festive music with Jessica Rose & Six Gun Rhythm, The Champions and The Bang all running through Saturday night on the patio…get your steins and your friends ready!"
Sat., Oct. 13, 2012: Wine Affairs celebrates Oktoberfest all day. 1435 The Alameda, 408-977-0111. According to their weeky newsletter: "In lieu of tastings next week, we will be celebrating Oktoberfest all day Saturday, 10/13, featuring discounted wine, beers, and special menu items. From 6 p.m. – 8 p.m., we will have a joint beer/wine tasting of German wines and Oktoberfest beers. The tasting is free for members or $12/person. Prost!"
Ongoing – Sun., Oct. 21, 2012: Gordon Biersch Brewery Restaurant continues the spirit of their Oktoberfest-themed party back on Sep. 11 celebrating the tapping of their seasonal FestBier (an "amber lager with a slightly sweet toasted maltiness, balanced by… spicy German Hersbrucker hops"). Until Sun., Oct. 21, enjoy items from their seasonal fall menu with this Oktoberfest-style FestBier.
Sat. – Sun., Oct. 20 – 21, 2012, 12 p.m. – 4 p.m.: Left Bank in Santana Row commemorates Oktoberfest with their fourth food and beer pairing event of this year, this time featuring Gordon Biersch Brewing Company. Details and complete menu provided at the Left Bank events page.
Thurs., Oct. 25, 2012: Harry's Hofbrau hosts their Oktoberfest event. From their Facebook page: "Some of you may be asking, 'Hey Harry! Are you going to do an Oktoberfest event or what?' To that we say, 'Javol!' October 25th we are having our annual Schneiderweiss takeover – Aventinus, Edelweiss, Original, (the amazing) Hopfenweiss hoppy wheat, new this year Eisbock (12%!), and finally a very limited release keg we are going to keep a secret. Prost!"
Ongoing – Fri., Oct. 26, 2012: Teske Germania has Oktoberfest activities featuring musical acts performing Fridays and Saturdays, beginning at 6:30 p.m. to 11:30 p.m. Teske Germania offers an extensive German menu as well as German beer offerings.
South Bay
Fri. – Sun., Oct. 12 – 14, 2012: BYR of Belgium in Campbell celebrates Oktoberfest with the following specials per their Facebook page update: "Starting at 7 p.m. tonight till Sunday evening, 25% off pitchers of beer and all bottle beers!"
Sat. – Sun., Oct. 13 – 14, 2012: Downtown Campbell celebrates Oktoberfest along Campbell Avenue. For event details, click here.
Sat. – Sun., Oct. 13 – 14, 2012: Downtown Campbell's Liquid Bread Gastropub hosts an Oktoberfest soft opening. 379 East Campbell Ave., 408-370-3499. Per an earlier Facebook update: "Can't wait for Oktoberfest on Sat. & Sun., Oct. 13th and 14th. We will have a soft opening selling a bunch of German beers & delicious brats! Come say hi! Official opening to follow shortly…" For a previous article on the soon-to-open Liquid Bread Gastropub, click here.
Ongoing – Fri., Oct. 26, 2012: Sunnyvale's Faultline Brewing Company Oktoberfest celebration continues until Fri., Oct. 26, having started Sep. 24.  From their press release: "'This year, we plan on having an extensive specialty menu that has more than 15 traditional Bavarian and German dishes with a Californian twist. Everything from sausage platters, potato-beer soup, schnitzel and soft pretzels will be available. Guests can buy Oktoberfest items like limited edition T-shirts and liter steins," [Christa] Shaw [of Faultline] said. During Oktoberfest, the San Jose restaurant is featuring traditional German music from Thursday through Saturday nights, and the facility will be decorated from top to bottom in Oktoberfest-related decor. 'We will have our award-winning Oktoberfest brew that won a gold medal at the LA County Fair and a silver medal at the Sacramento State Fair! We will also have other German styles of beer like Hefeweizen, Dunkel Weizen and Kolsch,' Shaw said."
Sat., Oct. 27, 2012, 11 a.m. – 9 p.m.: Steak Out Biergarten in Mountain View hosts Oktoberfest – Beyond Bavaria, presented by the German International School of Silicon Valley. 383 Castro Street, 650-209-0383. "Authentic German, Austrian and Swiss foods. Huge selection of European and local beers. Live entertainment from one of the largest German speaking communities in California. Plus raffle and silent auction!"
And Beyond
Sat., Oct. 13, 2012, 10 a.m. – 6 p.m.: The third annual Peninsula Oktoberfest takes place in Redwood City with several South Bay breweries participating.
As events and beer lineups may change from time to time, please do check with the establishment directly, especially if you are extra excited about a particular event and/or beer.
[This post was shared on Examiner.com.]