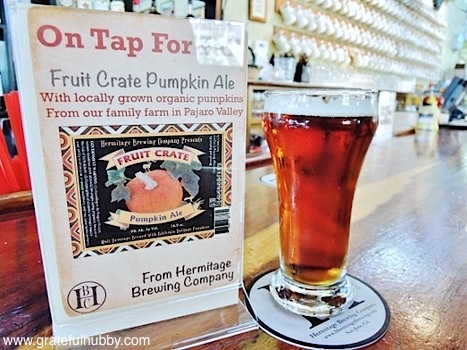 There is still time to make plans to enjoy October's First Firkin Friday at Tied House Brewery and Café in Mountain View, with a firkin (a cask filled with about 10.9 gallons of real ale) of Hermitage Brewing Hoptopia (Double IPA) dry hopped with experimental hop #04187 to be tapped at 5 p.m.
Per the event page, lead brewer Greg Filippi says, "Our Hoptopia just earned another award – first place at the Monterey Beer Garden: a festival featuring all local beers. To celebrate, we're going to have a firkin of our favorite DIPA for October's firkin Friday. This time, though, we dry hopped it with experimental hop variety 04187. The whole flowers have a very bright, citrusy quality reminiscent of fresh cut lemons, so we are hoping to see that transfer over to the finished cask. About 8% ABV, 70 IBUs."
While at Tied House, be sure to try the Fall 2012 limited release Hermitage Brewing Fruit Crate Pumpkin Ale on tap. Available only at Tied House and BevMo stores, the pumpkin ale pours a delightful amber brown. But after that, you will have more fun as you test your senses of smell and taste while on the hunt for pumpkin notes.
Greg explains, "When we approached doing a pumpkin ale we decided that rather than make a pumpkin pie spiced beer like many other breweries, we would try to capture the true essence of the pumpkins. We had several varieties of heirloom cooking pumpkins planted early this year so they would be done in time for our seasonal release, and we added more than 1200 pounds of them all throughout the brewing process. [The results] show just how delicate the flavor of pumpkin really is. When I drink the beer, I pick up hints of roasted pumpkin nestled among the malt aromas, and a faint pumpkin sweetness in the flavor that can easily be mistaken for caramel malt, especially if drinking it too cold."
Most if not all who try this beer will likely agree with his final thought that "the subtle pumpkin flavor makes for a very smooth beer, drinkable enough to have a few."
[This post was shared on Examiner.com.]