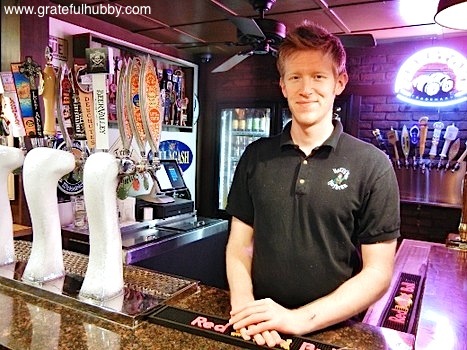 The 2012 SF Beer Week in February of last year helped to put Harry's Hofbrau San Jose on the South Bay craft beer map in a major way with a number of memorable events, including the culminating IPA Day featuring Pliny the Younger. Fast forward to today, and their Thursday Pint Night events continue to attract many beer fans throughout the valley.
Actually, the combination of ample space, hearty food, knowledgeable pourers, and the passion and determination that Harry's Hofbrau general manager Kevin Olcese has for bringing in good beer all make Harry's Hofbrau a go-to San Jose beer spot any day of the week.
Kevin is particularly excited for the fast approaching 2013 SF Beer Week, which takes place Feb. 8-17. He shares, "We are planning similar events to last year but bigger this year with a few new faces! I hope the events live up to expectations."
There are currently several Harry's Hofbrau events listed for the South Bay region on the SF Beer Week website schedule page, but there are the following updates. The Deschutes event has since fallen through, but Kevin has confirmed the Stone Brewing and Ballast Point events:
Wed., Feb. 13, 2013, 6 p.m. – 11 p.m.: Stone Brewing 28 Tap Takeover. This is the listed description: "Did we say 28?! Yes. Every tap in the house will be a special brew from our friends at Stone Brewing. Double dry hopped? Barrel-aged? Collabs? Who knows?! But we can assure, this is going to be awesome! Also on hand will be the man who wrote the book IPA, Mitch Steele, to meet and talk brewing!"
Sat., Feb. 16, 2013, 6 p.m. – 11 p.m.: Barrel-Aged, Rare, and Favorites from Ballast Point. The listed description states: "We loved this event last year, and this one is sure to be even better! Different barrel aging/variations on Victory at Sea, variations on Sculpin, and few other rarities. Meet the guys from the brewery as well!"
With Kevin's track record, Harry's Hofbrau San Jose will very likely surpass expectations and serve as a craft beer oasis during SF Beer Week 2013, especially with the following information just received from him:
– Look for a rare beers night from Dogfish Head on Sat., Feb. 9, 2013.
– Expect a The Bruery tap takeover with the brewer on hand on Tues., Feb. 12, 2013
– A Firestone Walker event with brewmaster Matt Brynildson is set for Fri., Feb. 15, 2013.
– The annual IPA event with 28 IPAs on tap featuring Pliny the Younger (with more this year than last year) is scheduled to wrap up the South Bay's SF Beer Week run on Sun., Feb. 17.
Better start marking your calendars right now.
As events and beer lineups may sometimes change, please check with the host establishment directly if you are extra excited about a particular event and/or beer during SF Beer Week.
[This post was shared on Examiner.com.]