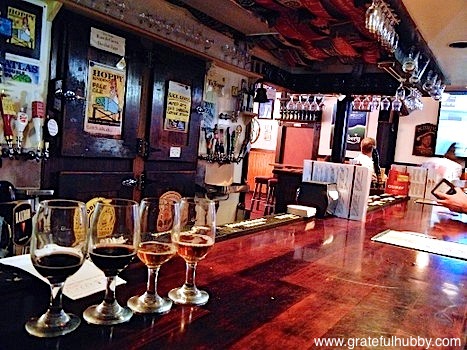 Palo Alto's The Rose & Crown Pub recently tweeted their events for the upcoming SF Beer Week celebration. Combined with a schedule recently posted on the SF Beer Week website, the following is a round up of their events:
Friday, Feb. 8, 2013: Sierra Fest
We are kicking off SFBW with a Sierra Fest. Were pouring Vintage 30th, Limited Beers, Beer Camp and much more.
Saturday, Feb. 9, 2013, 11:30 a.m. – 1 a.m.: Vintage Beer Event
Come by and try some beers that you enjoyed years ago and see how they have changed. We will have aged beers from the Sierra Nevada 30th Anniversary series, Lost Abbey Angel's Share, Firestone Parabola or maybe an old Anniversary, Black Butte X??, Plus many vintage bottles like Thomas Hardy, Abyss, Big Foot and too much other stuff to list. Just come by and see…
Sunday, Feb. 10, 2013, 11:30 a.m. – 1 a.m.: Sour Sunday in PA
Come get pucker faced with us yet again. We will be pouring a bunch of sours from Russian River Brewing, Bear Republic and Palo Alto Brewing, plus many more on tap and in bottles that you will have to come in and see for yourself.
Monday, Feb. 11, 2013, 11:30 a.m. – 1 a.m.: East Bay on the Peninsula with Triple Rock
For all of you who don't like to drive to Berkeley and drink the fabulous beers from Triple Rock because of the skyrocketing prices of DUIs, just come to Palo Alto and enjoy the 8-10 beers we will be featuring from Triple Rock. Then take the train home.
Tuesday, Feb. 12, 2013, 11:30 a.m. – 1 a.m.: Anchor Our Barrel Ale Peninsula Release and Trivia Night
Come by and try Anchor Our Barrel Ale. This beer was only released once before, years ago, and we will be pouring it in tap. Along with that we will have some new seasonal beer and a new addition to the year-round line up. Plus we will have some vintage magnums of our Christmas Ale that we will be pouring by the glass. Beers will be flowing all day, but trivia starts at 8 p.m. Brush up on you Anchor Brewing history and you may win a pint.
Wednesday, Feb. 13, 2013, 11:30 a.m. – 1 a.m.: Pliny the Younger
Pliny the Younger, Pliny the Elder, and other tasty beers until they're gone.
Thursday, Feb. 14, 2013, 11:30 a.m. – 1 a.m.: A Night of Off Centered Beers with Dogfish Head
Like crazy [expletive] in your beer? No, not real [expletive], at least not yet. Come try lots of loco things in liquid from those weirdos on the East Coast.
Friday, Feb. 15, 2013, 12 p.m. – 12 a.m.: Palo Alto Brewing Co. Swig-a-thon
Come get swigged on the local beverage: Palo Alto Brewing. We will be pouring your usual favorites like Hoppy Ending, Barley Legal and Atlas, but we will also have new stuff like Cool Beanz Coffee Porter (brewed w/ Philz Coffee), Onoskelis Barleywine, Onoskelis Barleywine on Makers Oak, Calypso Rye IPA, Two Barrel Aged Sour Porter, Young Sour Porter, last year's surprise favorite Atlas Chai IPA and maybe some other treats.
Saturday, Feb. 16, 2013: Scraps and Leftovers Event
Come and try all the stuff you missed…that's still around.
Sunday, Feb. 17, 2013, 11:30 a.m. – 1 a.m.: Firestone Walker Sours
Come by for some special once in a lifetime sours from Firestone Walker. It's going to be a wild ride.
As events and beer lineups may sometimes change, please check with the host establishment directly if you are extra excited about a particular event and/or beer during SF Beer Week.
[This post was shared on Examiner.com.]