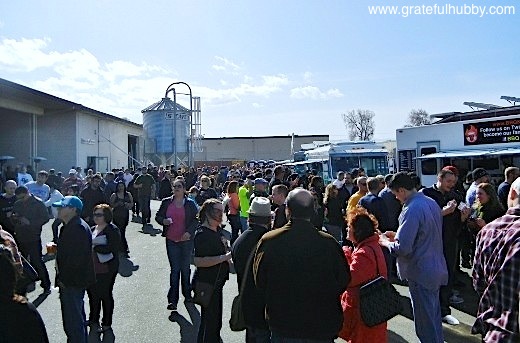 Established in 2009, San Jose's Hermitage Brewing Company has gotten increasingly busy trying to meet the demand for local craft beer – both for their own beers and through their contract brewing services.
Recently, their Ale of the 2Tun Imperial Stout with its smoothness and dark chocolate notes; their Single Hop Series Citra IPA with its signature citrus and hoppy flavors; and their newest Single Hop Series Galaxy IPA with its hoppy citrus and tropical fruit qualities have each attracted a growing fan base.
Hermitage has also been busy of late in preparing for the upcoming SF Beer Week. Participating in a number of events throughout the week, two certainly stand out.
The first is a special brewmaster beer-and-food pairing dinner in partnership with Scott's Seafood in Mountain View on Tues., Feb. 12 from 6 p.m. – 8 p.m, for which Scott's Seafood executive chef Ramon Nava has created a special four-course menu for $45 not including taxes and gratuity.
Reservations are required for this event and can be made by calling Scott's Seafood at (650) 966-8124. As space is limited, this event is sure to sell out.
Here is the menu courtesy of the Hermitage website:
COURSE 1
Beer: Maltopia Scotch Ale
Course: Smoked salmon, arugula, red onions, capers, and cherry honey vinaigrette
COURSE 2
Beer: Galaxy Single Hop IPA
Course: Butter leaf manouri salad, dry cranberries, Asian pears, with orange Champagne vinaigrette
COURSE 3
Beer: Ale of the Imp Imperial IPA
Course: Ahi tuna, coconut curry rice, grilled asparagus, sweet soy glaze
COURSE 4
Beer: Ale of the 2Tun Russian Imperial Stout
Course: Molten chocolate cake
The second featured Hermitage event during SF Beer Week is the 4th Annual Meet the Brewers beer festival taking place at the Hermitage Brewing Company facility on Sat., Feb. 16 from 12 p.m. – 5 p.m.
This event is the premier San Jose beer event because of the presence of most, if not all, of the South Bay brewing companies, including the participation of many of the brewers themselves.
The cost is $35 in advance and $40 at the door. Tickets can be purchased online in advance and costs $35; otherwise the cost is $40 at the door while tickets last. But be warned – last year's event sold out. For additional information, visit the Hermitage event page.
The following is a list of participating breweries courtesy of the Hermitage website:
The following is a list of the participating gourmet food trucks:
Proceeds from Meet the Brewers 2013 will go towards Can Do Multiple Sclerosis, a national non-profit organization that provides innovative lifestyle empowerment programs for people living with Multiple Sclerosis.
[This post was shared on Examiner.com.]