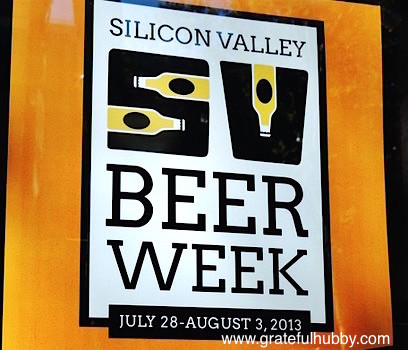 At long last, Silicon Valley Beer Week (SVBW) is here. Today, Sunday, July 26, is the official start day, the first of seven days devoted to all things related to beer throughout the South Bay and neighboring areas.
At last count, the Venues page of the SVBW website listed 88 venues and organizations, and the Events page listed 180 beer-related specials and events.
Considering that there is only one designated event today – the Kick Off Party at Gordon Biersch Brewery (357 E. Taylor St.) – and just one dedicated event on the last day, Aug. 3 – the Summer KraftBrew Fest (Post St.) – that means there are 178 events taking place starting tomorrow and over the next five weekdays of this inaugural beer week.
Some might feel overwhelmed by the sheer number of choices, while others might feel like a big kid in the proverbial candy store.
Each of the event listings on the website has a brief description with some more expansive than others. The latest issue of Metro Silicon Valley newspaper also has a list of most of the events.
A review of the events shows that there is a great variety of events and activities to appeal to just about anyone, including those relatively new to the joys of good beer, the more experienced beer drinker, and the beer connoisseur.
A review of the venues shows that a number of the participating venues and organizations appear to be advertising beer-related events for the first time, while the establishments and organizations with proven track records have coordinated intriguing programming schedules.
Clicking on a particular venue or organization takes you to a list of all their associated events and specials.
It is nice to see the following mainstays of the South Bay and neighboring beer scenes, as well as several recently publicized upstarts, participating in the inaugural SVBW:
Beerwalk
California Cafe Los Gatos (50 University Ave.)
Campbell Brewing Company (200 E. Campbell Ave., Campbell)
Devil's Canyon Brewing Company (935 Washington St., San Carlos)
Faultline Brewing Company (1235 Oakmead Pkwy., Sunnyvale)
FireHouse Grill & Brewery (111 S. Murphy Ave.)
Firehouse No. 1 Gastropub (69 San Pedro St., Downtown San Jose)
Freewheel Brewing Company (3736 Florence St., Redwood City)
Good Karma Vegan Cafe (37 S. First St., Downtown San Jose)
Gordon Biersch Brewery Restaurant (33 E. San Fernando St., Downtown San Jose)
Gourmet Haus Staudt (2615 Broadway, Redwood City)
Harry's Hofbrau Redwood City (1909 El Camino Real)
Harry's Hofbrau San Jose (390 Saratoga Ave.)
Hermitage Brewing Company (1627 S. 7th St., San Jose)
Jack's Bar & Lounge (167 E. Taylor St., San Jose)
Los Gatos Brewing Company (163 W. Santa Clara St., Downtown San Jose)
Market Beer Company (175 W. St. John St., Downtown San Jose)
O'Flaherty's Irish Pub (25 N. San Pedro Square, Downtown San Jose)
Original Gravity Public House (66 S. 1st St., Downtown San Jose)
Poor House Bistro (91 S. Autumn St., Downtown San Jose)
Rootstock Wine Bar (217 N. Santa Cruz Ave., Unit B)
Scott's Seafood Mountain View (420 Castro St.)
SmokeEaters Cupertino (10650 S. De Anza Blvd.)
SmokeEaters Downtown San Jose (29 S. Third St.)
SmokeEaters Santa Clara (3175 Mission College Blvd.)
Spread (193 E. Campbell Ave., Campbell)
Steins Beer Garden (895 Villa St., Mountain View)
Teske's Germania Restaurant (255 N. First St., Downtown San Jose)
The Farmers Union (151 W. Santa Clara St., Downtown San Jose)
Whole Foods Market Cupertino (20955 Stevens Creek Blvd.)
Wicked Chicken (2565 The Alameda, Santa Clara)
Wine Affairs (1535 The Alameda, San Jose)
The following event listings look to be especially enticing:
Monday, July 29
Tuesday, July 30
Wednesday, July 31
Thursday, August 1
Friday, Aug. 2
As can be seen, there are choices galore.
[This post was shared on Examiner.com.]