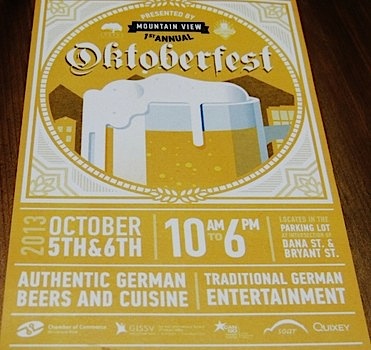 Mountain View's first ever Oktoberfest celebration takes place on Saturday and Sunday, October 5 and 6, from 10 a.m. to 6 p.m. in the outdoor parking lot directly behind Steins Beer Garden & Restaurant (895 Villa St.) at the corner of Bryant St. and Dana St.
And for Steins owner Ted Kim, based on past conversations, hosting a "great, big Oktoberfest celebration" in Mountain View has certainly been on his mind since even before the opening of Steins in late March of this year.
From a more recent conversation, Ted shared how he wanted a family-friendly Oktoberfest event that was also as authentic as possible in order to help distinguish the Mountain View Oktoberfest from some of the others taking place throughout the Bay Area, which meant, among other things, having a beer tent (40 foot x 180 foot), long German-style benches, a stage for bands, traditional Oktoberfest games, and plenty of German food and beer (there will be at least 13,000 liters of German beer).
After running his idea by his partners, Ted went about seeking support from Tied House (954 Villa Street) and then the Chamber of Commerce, and through collaborative efforts, his request for a parking lot permit before the City Council was unanimously approved.
During the early planning stages, he came into contact with Mountain View's German International School of Silicon Valley (GISSV) and from them, he received further suggestions, including recommendations on bands and food vendors. Look for GISSV students to take the stage as well.
All of which leads to the upcoming Oct. 5-6 First Annual Mountain View Oktoberfest hosted by Steins, Tied House, and the Chamber of Commerce. They expect over 4,000 guests to join the celebration throughout the weekend, with a very pleasant weather forecast.
There will be live German music with performances by Big Lou's Accordion (Saturday at 2 p.m.), Joe Smiell Band (Sunday at 11 a.m. – 2 p.m.), The SF German Band (Sunday at 2 p.m.), and the aforementioned German International School of Silicon Valley.
Examples of entertaining kid-friendly activities include a bouncy house, face-painting, and a pretzel eating contest.
Steins is also teaming up with PayPal, so guests can have an easy paying option when purchasing steins that will have the Mountain View Oktoberfest logo, food, drink tickets, and more (additional information at the end of the article).
Along with Tied House, who will be pouring their seasonal Oktoberfest beer, there will be a variety of German beers under the festival tent, including:
Paulaner Pilsner
Hofbrau Lager (Original)
Andechs Doppelbock
Erdinger Oktoberfest Weissebier
Weihenstephaner Oktoberfest (Golden Ale)
Weltenburger Barock Dunkel
Spaten Premium Lager
Franziskaner Hefeweizen
Franziskaner Dunkelweisse
To enjoy a beer at the Oktoberfest, a Mountain View Oktoberfest stein must be purchased – either $10 for a 0.5-liter stein or $15 for a 1-liter stein.
Drink tickets are $7 for 1 ticket or $20 for 3 tickets. And 1 ticket fills a 0.5-liter stein, and 2 tickets fill a 1-liter stein.
Traditional German dishes will be available for purchase from Teske's Germania and a number of other food vendors, including Esther's German Bakery and The Butcher's Daughter, ranging from $6-$12 depending on the dish.
A portion of proceeds from the event will be donated to Can Do MS and SOAR, a partner charity with Chamber of Commerce Mountain View, and the German International School of Silicon Valley. Student Outreach Award Resource (SOAR) is known throughout the community for its financial help and scholarship awards for high school and community college students looking to advance their education. Can Do MS is the leading provider of innovative lifestyle empowerment programs for people with multiple sclerosis and their support partners.
Note regarding PayPal: PayPal is collaborating with Steins by offering PayPal payments in their restaurant and is the payments solution provider and sponsor of Mountain View Oktoberfest. Guests can receive $5 off their purchase of a MV Oktoberfest branded stein if they pay with PayPal's mobile app (iPhone and Android). There will be multiple payment areas where guests can purchase steins, drink tickets, and more. With the PayPal mobile app, all attendees need to do is check in to Oktoberfest and complete their purchase through the PayPal mobile app; no wallet needed. If you don't have a smart phone, there will PayPal Here™ devices to accept credit cards, checks and take cash payments.
[This post was shared on Examiner.com.]