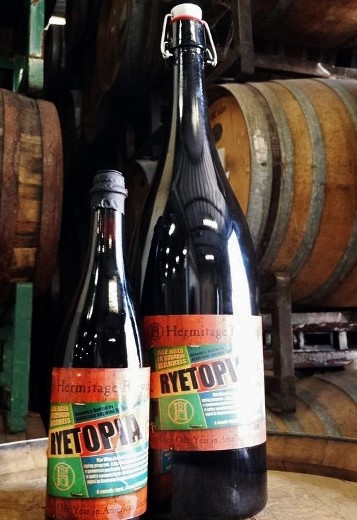 San Jose's Hermitage Brewing Company has announced their winter seasonal release Ryetopia as well as Single Hop Series Chinook to be tapped at both Hermitage Brewing Tap Room (1627 South 7th St.) and Tied House Microbrewery (954 Villa St., Mountain View) locations on Thursday, Nov. 14 at 5 p.m.
Ryetopia is a rye barley wine ale aged in Kentucky bourbon barrels for 12 months and represents Hermitage's first release from their barrel-aging program.
Chinook Single Hop represents the latest in their fine Single Hop Series offerings.
The following press release contains more information about both beers:
Hermitage Brewing Company (HBC) is proud to release Ryetopia as part of its topia series and is also proud to release Chinook as part of its Single Hop Series collection. HBC will hold a special tapping of these seasonal beers at their HBC Tap Room in San Jose on Thursday, November 14th, 2013, 5pm to 7pm located at 1627 S.7th St. San Jose, CA 95112.
After primary fermentation Ryetopia was racked into whiskey barrels and was aged for about a year. This beer was hopped with Bravo, Apollo, and Cascade Hops. Ryetopia is a smooth, flavorful beer, packed with rich nuances of chocolate, caramel, toffee, licorice, vanilla, oak, and more than a little bourbon. The perfect sipper for a cold California winter night.
Our Chinook Single Hop is the latest release in our Single Hop Series. Hermitage began producing its Single Hop Series in 2011. Since then, Hermitage released seven single hop IPAs including Galaxy, Sorachi Ace, Simcoe, and California State Fair Commercial Beer Competition Gold Medal winner in 2011 and 2012, Single Hop Citra. The flavor profile that you will find in the Chinook Hop is mild to medium heavy, spicy, piney, and grapefruity.
Lead brewer Greg Filippi says:
"Ryetopia is our homage to the delicious yet often overlooked rye malt. We started with a big bold barley­wine style ale, then beefed it up with a healthy dose of rye malt and crystal rye (about 16% of the total grist). Rye is known for its dry, slightly spicy flavor in beer. Crystal rye goes through a different malting process which converts some of the starches in the grain into simpler sugars before we add it to our mash. This results in a sweeter flavor, adding hints of licorice and toffee to the finished beer."
Ryetopia and Chinook Single Hop will be tapped, company-­wide, on Thursday, Nov 14th, 2013 at 5pm. The ceremonial tapping will take place at the Tap Room at Hermitage Brewing Company, and Ryetopia and Chinook will be available at Tied House. Ryetopia will also be available in 750ml bottles for a limited time.
About Hermitage Brewing: Established in 2009, Hermitage Brewing Company is located in San Jose. Hermitage makes small batch craft beers, and specializes in developing new and innovative beer styles.
About Tied House Microbrewery: Tied House was founded in 1987, and poured its first pint in January of 1988. Twenty Five years later, Tied House continues its loyalty to the community and provides a dynamic, fun space where guest can continue to enjoy their favorite Tied House beer. In 2010 and 2011, Tied House acquired over ten awards, including back-­to-­back Gold Medals for its Ironwood Dark from the California State Commercial Craft Brewers Competition.
[This post was shared on Examiner.com.]