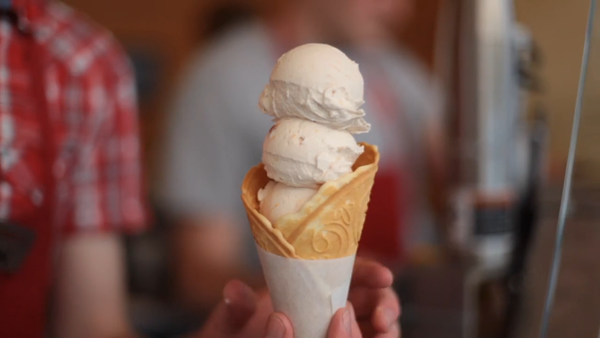 A unique beer event takes place during SF Beer Week on Wednesday, Feb. 12 at the recently opened Smitten Ice Cream shop in Los Altos, located inside Whole Foods Market (4800 El Camino Real).
The event is entitled "Beer Ice Cream… Made to Order" and features ice cream—made with a patented liquid nitrogen churning technology—infused with standout beers including Simtra Triple IPA from Knee Deep Brewing Company, the limited and seasonal release Stout from San Jose's Strike Brewing Company, Hefeweizen from San Jose's Gordon Biersch Brewing Company, Onoskelis Barleywine from Palo Alto Brewing Company, and Biere de Chocolat from Almanac Beer Company.
Smitten founder Robyn Sue Fisher recently took the time to share more about this upcoming event.
How did the idea for this event come about?
We just opened our Los Altos Smitten Ice Cream shop, Silicon Valley's newest and most unique individual batch ice cream shop. Pete Slosberg, of Pete's Wicked Ale, and Dan Gordon, of Gordon Biersch, are good buds, and we've spoken a bunch about Smitten's unique capability of making alcohol-infused—and truly alcoholic—ice cream, due to our patented liquid nitrogen churning technology.
So, we reached out to our favorite local brewers and homebrewers and started experimenting with some intriguing beer flavors. Turns out, the flavors are mighty darn good! Better than any of us imagined.  And, believe it or not, we can do a 1:1 ratio of beer to ice cream, since we freeze each scoop to order at -321 degrees Fahrenheit, much below the freezing point of alcohol!
So, unlike any other ice cream company, we don't have to burn the alcohol off before putting it in our ice cream. So, this event is truly 21+ only.
What will be some of the ice cream and beer combinations available at the event?
We've crafted some amazing ice cream flavors using the inherent flavors in each beer combined with Smitten's diverse flavor profile as a small batch made-to-order ice cream shop. The resulting flavor combinations enhance the beer notes.
Homebrew Chef Sean Paxton says, "It's almost like a deconstruction of the beer's recipe, then adding complementary and contrasting flavors and textures to pop and wow the customer."
Here are some examples of the beer ice creams on the menu:
Simtra 3x IPA Meyer Lemon Gingersnap (with Knee Deep Simtra Triple IPA) – a hop-head's dream!  From an earlier tasting, event host Nick Osborne, a member of the Silicon Valley Sudzers homebrew club, said, "The delicious Simcoe and Citra hop flavors were accentuated by the lemon and were prominent over the wonderfully rich, smooth ice cream. Most definitely a Hop Head winner!"
Salted Caramel Stout (with Strike Brewing Company Stout)
Banana Cream Pie Hef (with Gordon Biersch Hefeweizen)
Malted Vanilla Barleywine (with Palo Alto Brewing Company Oneskelis Barleywine)
TCHO 60.5% Biere de Chocolate Mocha (with Almanac Biere de Chocolat)
Anything else to add?
We are super excited to partner with such amazing brewers for this truly one-of-a-kind event! Read more about Smitten Ice Cream's unique approach to ice cream here: www.SmittenIceCream.com.
Limited number of tickets available. Tickets can be purchased here: http://www.eventbrite.com/e/beer-ice-cream-tickets-10403498143
Admission tickets are $15 and include tastings of the beer ice creams. It is worth mentioning again that tickets to this event are available on a limited basis. It is likely that this event will sell out quickly.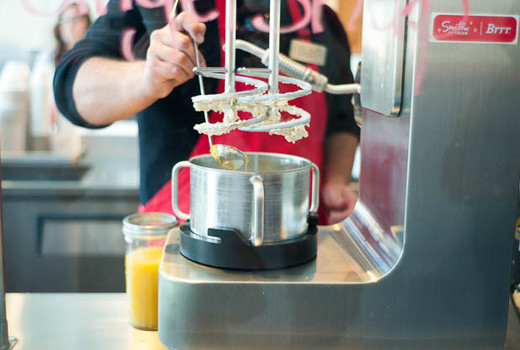 The following is the up-to-date event description:
Website: eventbrite.com/e/beer-ice-cream-made-to-order-tickets-10403498143
Admission: $15 + Fee ($1.82)
As part of SF Beer Week 2014, the folks from Smitten Ice Cream are partnering with local breweries Gordon Biersch Brewing Company, Strike Brewing Company, Knee Deep Brewing Company, Palo Alto Brewing Company, and Almanac Beer Company for a one-of-a-kind brewer/foodie dream night. Beer-infused ice cream. Yes, alcoholic ice cream. And damn good ice cream at that.
We've taken the best local beers and paired them with them with the best artisan ice cream flavors like Meyer Lemon Gingersnap, Salted Caramel, and Malted Vanilla. Better yet, the ice cream is made to order with liquid nitrogen, right before your eyes, with Smitten's own patented ice cream churner named Brrr. Don't believe us? Check out our website: www.SmittenIceCream.com
Come check out the festivities at Smitten's new Los Altos shop at Whole Foods Market (4800 El Camino Real.) We've only got a small number of tickets on hand so that everyone can chat with some of the brewers and Smitten Founder, Robyn Sue Fisher.
All attendees MUST be 21+ and will be asked to provide identification at the door.
Questions? Email info@smittenicecream.com. Have questions about BEER ICE CREAM!? Contact Smitten Ice Cream.
About Smitten Ice Cream: Smitten Ice Cream was founded in 2007 by Stanford Business School graduate Robyn Sue Fisher in the pursuit of elevating her favorite dessert to a level never tasted before. Smitten uses its very own patented technology to freeze each batch of ice cream to order using liquid nitrogen. Its proprietary ice cream churner, Brrr (TM), mixes and freezes ice cream in just a few minutes, creating a supremely smooth texture and unparalleled flavor. The Smitten team is united by the mission to make each and every truly decadent scoop to order, using only the freshest, purest, locally sourced and seasonal ingredients. It's new, old-fashioned ice cream. For more information, visit: www.smittenicecream.com.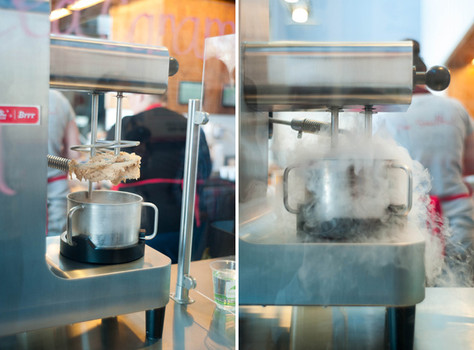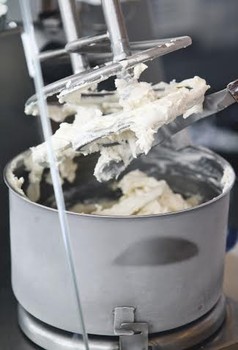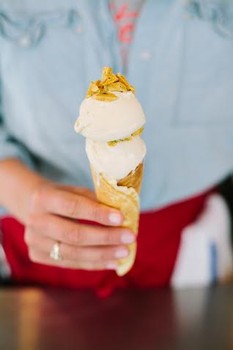 [This post was shared on Examiner.com.]