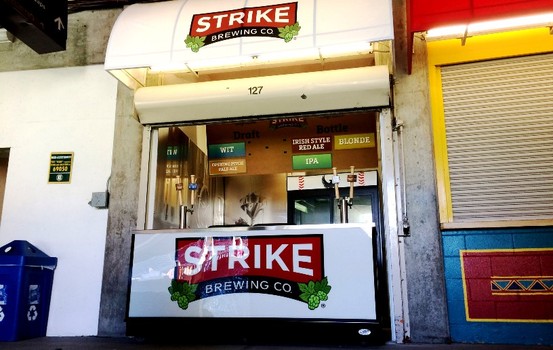 San Jose's Strike Brewing Co. has opened a beer garage (concession stand) at O.co Coliseum, and fans attending the Oakland A's home opener earlier this evening had first crack at purchasing draft and bottled Strike beers offered for the first time inside the stadium.
The initial draft lineup features Wit, Brown and Opening Pitch Pale Ale, plus three bottled selections – Blonde, IPA and Irish Red Ale. Strike beers will also be available at several other locations throughout the ballpark.
"We're thrilled to be able to offer A's fans more choice when it comes to the beer they enjoy during the game," said Strike co-founder and CEO Jenny Lewis in a recent press release. "This expansion is just one piece of our larger effort to make the world aware of the great craft beer being brewed right here in the Bay Area."
Speaking of expansion, the Strike team has added a number of key personnel in recent months. The brewery has also added new equipment. All of which to help keep up with both the demand for their beer – Strike is on pace to produce 5,000 barrels this year – as well as spur continued growth.
Strike chose a particularly good home game this evening to debut their beers – an exciting win punctuated by plenty of offense, solid defense, and shut-out ball with a no-hitter into the eighth inning by A's ace Sonny Gray. Certainly an impressive win. May there be many more wins this season, to be celebrated with a Strike beer – or two – in hand when at the stadium.
About Strike
Strike Brewing Co. is a craft brewery and warehouse taproom located in San Jose, CA. Strike makes thirst-quenching "session" beers, as well as seasonal and specialty brews. Founded by Los Altos native and startup veteran Jenny Lewis and brewmaster Drew Ehrlich, Strike beers are distributed throughout the Bay Area and parts of Southern California. Ehrlich played college baseball at Stanford University and within the Boston Red Sox organization which led to the company's name Strike Brewing Co.
[This post was shared on Examiner.com.]