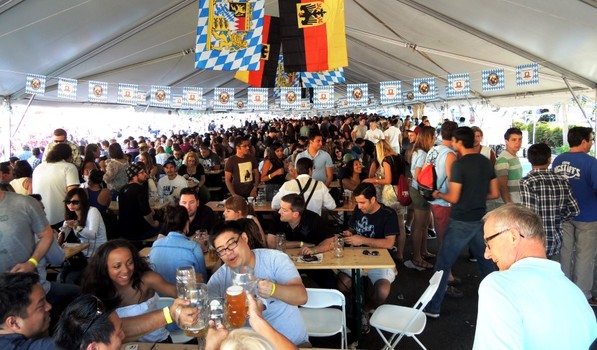 Oktoberfest is back in Silicon Valley with numerous opportunities to enjoy quality German-style beers paired with German culture and cuisine. Beyond the much-celebrated tradition of having a drink or two to commemorate the holiday, many of the Oktoberfest celebrations in Silicon Valley will also feature live entertainment and family-friendly activities. Prost!
Daily Until Oct. 30: Teske's Germania
255 N 1st St, San Jose
Teske's Germania in downtown San Jose is known for its distinct German cuisine and setting. Throughout Oktoberfest, the Internationals and the Gruber Family Band will perform on select Friday and Saturday evenings, starting at 6:30pm.
Sept. 17: Oktoberfest at Gordon Biersch
33 East Fernando Street, San Jose
Downtown San Jose's Gordon Biersch celebrates Oktoberfest with a tapping party at 5pm for its latest seasonal offering, Festbier amber lager. Look for special menu items from Sept. 16 to Oct. 18, including a German sausage plate and platter, a Märzen Bratwurst sandwich, chicken Schnitzel and more.
Sept. 21-Oct. 23: Faultline Brewing Co.
1235 Oakmead Pkwy, Sunnyvale
Sunnyvale's Faultline Brewing Company will offer a special Oktoberfest menu with items like beer-braised sausages and Schnitzel, as well as live music, with in-house brewed Germany-style beers on tap.
Sept. 25-27: Oktoberfest at Naglee Park Garage
505 East San Carlos Street, San Jose
Naglee Park Garage celebrates its 9th Annual Oktoberfest this year with a special menu created by Chef Louis Silva, German beers and live music on the patio. Oktoberfest at Naglee Park Garage was a precursor to the San Jose KraftBrew festival, a local semi-annual celebration of craft beer.
Sept. 26: Oktoberfest at Jack Rose Libation House
18840 Saratoga Los Gatos Road, Los Gatos
Jack Rose Libation House in Los Gatos hosts its third annual Oktoberfest from 4pm to 9pm. Enjoy sausages, pretzels, potato salad and German beers on tap in the outdoor beer garden. The Gruber Family Band will perform from 5pm to 9pm.
Oct. 3: Peninsula Oktoberfest
601 Skyway Road, San Carlos
Taking place from 11am to 4pm at the Hiller Aviation Museum in San Carlos, there will be plenty of indoor and outdoor space to enjoy food, entertainment and German beers, as well as offerings from local breweries. The museum's exhibit of historical planes and other artifacts will also be open.
Oct. 3-4: Mountain View Oktoberfest
895 Villa Street, Mountain View
Mountain View Oktoberfest is arguably home to the biggest and best of Silicon Valley Oktoberfest celebrations. Hosted by Steins Beer Garden & Restaurant with partners Tied House and the Mountain View Chamber of Commerce, the third annual celebration takes place from 11am to 7pm for two days in the large parking lot directly behind Steins. It features food from Teske's Germania and Moveable Feast food trucks, a 7,000-square-foot beer tent, a variety of German beers, live music and a large kids zone.
Oct. 5-6: Oktoberfest at Henry's World Famous Hi-Life
310 W. St. John, San Jose
Henry's World Famous Hi-Life is having an Oktoberfest parking lot party in parking lot. Weltenburger Klosterbrauerei Dunkel, Hells and Frans beers and Lagunitas Doppelsticky will be on tap, along with with Henry's everyday selection of 16 draft beers. Henry's will be serving grilled brats, sauerkraut, peppers and onions, signature warm potato salad, garlic bread and fried chicken.
Oct. 6: Oktoberfest Face Off
25 N. San Pedro St., San Jose
O'Flaherty's will pour more than 20 German and German-inspired beers throughout the month of October. A Germany vs. America face off takes place on Oct. 6 where customers can try lagers, hefeweizens and Oktoberfest beers made from German and American breweries and determine the winner. Last year, Germany won.
Oct. 10: Oktoberfest at San Pedro Square Market
87 N. San Pedro, San Jose
Oktoberfest returns to San Pedro Square Market for its third year from noon to 7:30pm. Look for a dozen German beers on tap, special German-inspired dishes and plenty of entertainment, including the Showcase Band, a brat' toss, stein hoisting, water pong and more.
Oct. 10: Oktoberfest at Gordon Biersch Brewery
357 East Taylor Street, San Jose
Gordon Biersch Brewery will host its inaugural Oktoberfest from 12pm to 9pm outside the brewery. The celebration includes traditional German food, roasted pig and chicken, the debut of WildCide Hard Cider, brewery tours, Gordon Biersch beers, garlic fries and more. Mayor Sam Liccardo will open the event with a ceremonial tapping of the first keg with brewmaster Dan Gordon. Look for this one to quickly become a local favorite.
Oct. 17-18: Campbell Oktoberfest
Downtown Campbell
Campbell's annual Oktoberfest takes place over two days in downtown and promises a little something for everyone—German food, beer and wine, live music, and more than 100 arts and crafts booths.
Oct. 18: oktoBRAfest at San Jose Woman's Club
75 S. 11th Street
OktoBRAfest takes place from 3pm to 5pm and will be emceed by KBAY Morning Show host Lissa Kreisler. Hosted by Be A Dear and Donate a Brassiere Section in honor of Breast Cancer Awareness Month, expect fun contests and raffle prizes, music and dancing, a buffet of German classics and beers from Gordon Biersch.
[This post was shared on SanJose.com.]