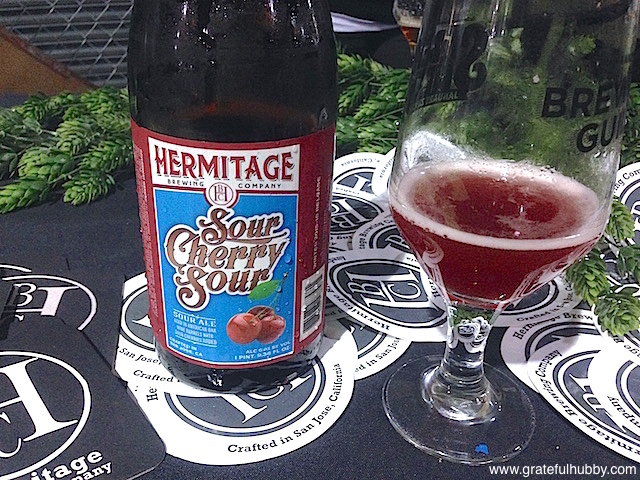 Not only have the sour beers coming out of San Jose's Hermitage Brewing Company been generating tasty results and a growing buzz, but they've also garnered recognition at major beer competitions in the state.
Case in point: Sour Cherry Sour, released in January, bested 39 other breweries at the California State Fair Commercial Craft Brew Competition held last month to win 1st place in the Sour Ale category. Incidentally, offerings from venerable Drake's Brewing Company and Alvarado Street Brewery won 2nd and 3rd, respectively, in the category.
Sour Cherry Sour also took home the bronze medal in April at the Los Angeles International Beer Competition in the Wood- and Barrel-Aged Sour Beer category.
More about Sour Cherry Sour from Brewmaster Peter Licht
How did this beer come about?
Hermitage Brewing Company brewmaster Peter Licht explains, "I started brewing sours 20 years ago at Coast Range. The Sour Cherry is only my 4th American Sour Series release under my Hermitage brand. I brewed Sour Cherry and nurtured it in the cellar for a couple of years. We selected from several ages of sour beer fermented and aged with various wild yeasts and bacteria.
"I have to share [the awards] with my partner in crime, cellarmaster Greg Filippi, who conducted the final blending with sensory input from the palate of our entire brewing team.
"We are all pretty proud of how much a pleasure this one is to drink. They are expensive to produce but worth it!"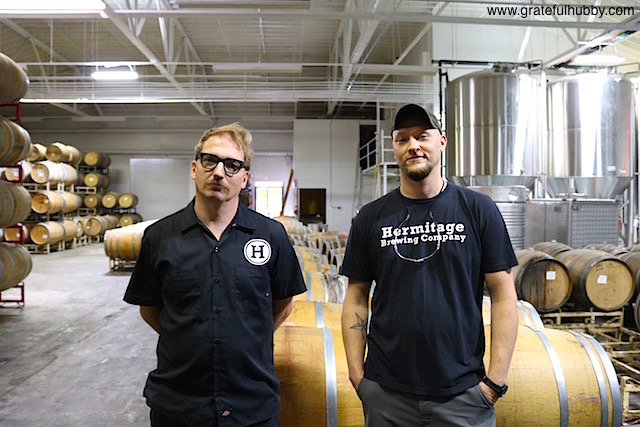 Sour Cherry Sour Tasting Notes
Sour Cherry Sour is blended from more than 30 American wine barrels cellared between 1 and 2 1/2 years. According to notes from the brewery, more than 5,000 pounds of sour cherries – Montmorency cherries, to be exact – were added to make the beer, about 5 1/2 pounds per gallon.
The beer pours crimson red with a moderate, pink head. A slight acidic sharpness on the nose quickly gives way to a bright cherry aroma. The flavor is initially sharp tartness followed by a sweeter tartness from the sour cherries.
Adding to the complexity of the beer are the background traces of tannins and funk from the long Brettanomyces fermentation and maturation in oak. A mild acid level further helps to mask the 6.5% ABV. The finish is fairly dry.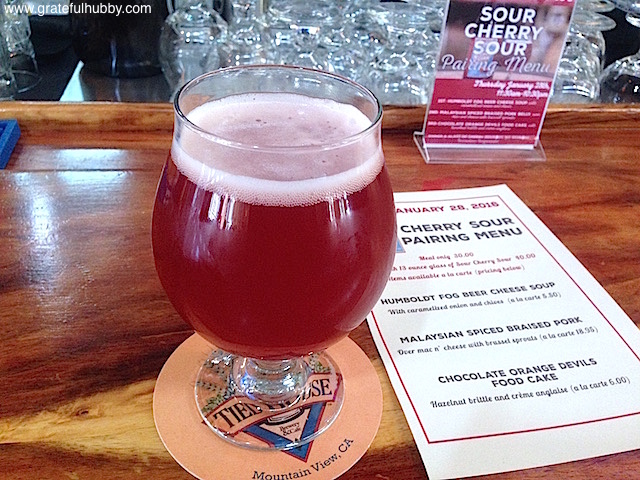 Where You Can Get It, Plus Future Bottled Sour Beers

Sour Cherry Sour can be found in 750-ml. champagne-size bottles at a number of local beer stores and retails for approximately $29.99. It is also available on draft in limited quantities, including among other locations at the Hermitage Brewing Company Tap Room (1627 S. 7th St.) and Taplands in Santa Clara (1171 Homestead Rd.).
Future releases of Hermitage's American Sour Series, starting with Strawberry Rhubarb, will be bottled in single-serve 375-ml. bottles and retail for $12.99.
More about the American Sour Series from Head Brewer and Cellarmaster Greg Filippi, Plus Upcoming Sour Beer Releases

Cherry Sour Cherry is the fourth release from Hermitage Brewing's American Sour Series, following Sour Pumpernickel Rye, Sour Peach Ale and their first sour project Boysenberry American Sour Ale.
Hermitage Brewing Company head brewer and cellarmaster Greg Filippi shares more about Hermitage's sour beer production. "We call our technique American Sour. It's a product of intent, not "wild" or "spontaneous" mysterious fermentations. The acidity is from organic acids produced during fermentation first in stainless steel, then in the barrel.
"We have a new 5,000-barrel capacity sour beer annex adjacent to the production brewery and tap room, and I have a dozen sour beers in the works for the next couple years.
"I've just finished my final blend on Strawberry Rhubard, and we'll package it early July.
"Then French Blackberry and Blood Orange will finish out 2016."
In offering a sneak peek to the upcoming Strawberry Rhubarb release, Greg quips, "Be careful with this one, it's dangerously good."
About Hermitage Brewing Company
Hermitage Brewing Company was founded in 2009 as a production facility. It is part of the MJC Group's family of companies comprising the pioneering Tied House Brewery & Cafe founded in 1987 in Mountain View, and more recently, West End Tap & Kitchen in Santa Cruz and East End Gastropub in Capitola.
Owner and brewmaster Peter Licht, along with the MJC Group, opened and launched Hermitage Brewing for his own line of beer and to supplement Tied House's 20-barrel brewery. Peter graduated from the Master Brewers Program at UC Davis in 1994 and worked at Coast Range Brewing from 1995 to 2008. He has an English Literature degree from Columbia and named his brewery after an obscure passage from the epic tome, Don Quixote.
Hermitage produces nearly two-dozen beers annually under its own label, including Hoptopia, Maltopia, 408 Session IPA, Citra Single Hop IPA and their monthly Single Hop IPA Series. The brewery has recently been modernized from grain to glass, including a new brewing system, packaging line, centrifuge, fermentation tank farm and a 5,000-barrel capacity sour beer annex for Hermitage to grow into. The annex – or the "sour" side – is required to separate the funky yeasts and bacteria used to brew sour beers from the more traditional brewery yeast strains used on the "sweet" side.
Virtual Tasting (Video) of Sour Cherry Sour