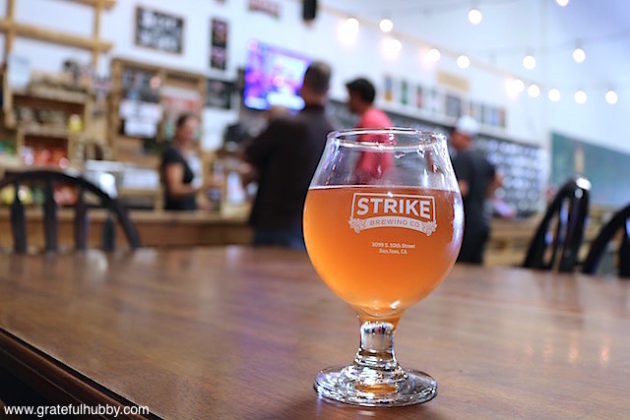 San Jose's Strike Brewing Company recently tapped the latest offering from their Bullpen Series – Cherry Bonds, a kettle soured blonde ale conditioned on tart cherries.
Cherry Bonds – their 14th Bullpen release for those keeping count – was tart (naturally), crisp, refreshing and very tasty.
Previous Bullpen Series beers from earlier this year have included – to name a few – Berliner Weisse with blueberries and pomegranate, Rained Out Pale Ale with pineapple and toasted coconut, Bergamot Breakfast Pale Ale with local lemon zest and Earl Grey tea, Milk Stout and Big Wall Imperial Stout with Madagascar Vanilla Beans.
Because of the growing popularity of the Bullpen Series and the consistently positive feedback on these beers – combined with the fact that they're brewed in micro-batch quantities – a Bullpen beer is consumed quickly and then, in most cases, gone forever.
Indeed, Strike co-founder and brewmaster Drew Ehrlich confirmed that the Bullpen beers – released periodically throughout the year and available only at the taproom – rarely last past a couple days.
The Bullpen Series is an excellent complement to their regular beer lineup and is the brainchild of Strike brewer Ryan Bridge. A South Bay native, he joined Strike about two years ago and has been quickly making his mark as a professional brewer.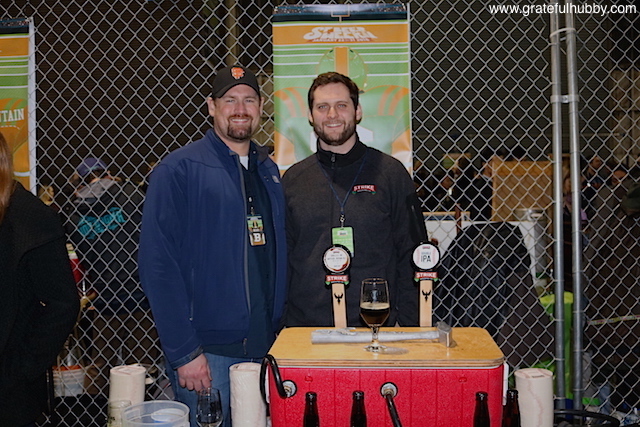 Ryan recently took the time to share a bit about his background, how the Bullpen Series came about and upcoming beers to look forward to from the Series.
Can you share a bit about your background? Where are you from/where did you grow up? College/major?
I grew up in Mountain View and Sunnyvale, so I'm originally from the South Bay. After high school I moved down to San Diego to study History and Literature/Writing at UCSD. In August 2014, I moved back up to the Bay Area and started working at Strike.
What's been your experience with brewing?
I began brewing in college, experimenting first with mead and wine until eventually my dad bought me a homebrew starter kit for one of my birthdays. From that point on I homebrewed regularly.
I spent a lot of time visiting local breweries and usually attempted to clone the recipes of beers that I liked.
How did you go about joining the Strike team? When did you start at Strike?
When I moved back up to the Bay Area in 2014, I knew I wanted to commit to becoming a part of the beer industry. I got in touch with [Strike co-founder and CEO] Jenny [Lewis] and began helping out by pouring beer at events and in the taproom.
Eventually I worked my way into the production side, learning to work the bottling line as well as the cellar. After assisting Drew in the brewhouse for a while, I began brewing full time in early 2015.
How has it been working at Strike?
Working at Strike has been an awesome experience. Since we are such a small operation, we all wear many hats and inevitably learn something new every day.
I've grown tremendously as a brewer, and it has been really fun to see Strike expand and become a bigger part of the San Jose community.
Can you share how the Bullpen Series started? What were the goals?

We began the Bullpen Series beers with a couple of goals in mind. First, we wanted to bring a wider variety of styles into the taproom for our regulars and those visiting the brewery.
We also needed an outlet to develop new recipes in the hopes of eventually scaling them up into full production (Shoeless Joe Imperial Coffee Brown, for example).
Ultimately, brewing the Bullpen beers has been a great way for me to practice with fun, new ingredients, as well as brewing techniques.
Can you share more about the brewing system for the Bullpen Series?
When we first started the Bullpen Series, we were brewing on a 10 gallon homebrew system – our mashtun was an Igloo cooler and our kettle was a 15.5 gallon keg with the top cut off.
Once we realized all of the benefits of a dedicated pilot system, we upgraded to a two-tiered K-RIMS system that allows us to brew up to 20 gallons at a time.
How often do you try to release a new Bullpen Series beer?
Our goal is to release two Bullpen beers a month, but it is really dependent on our production schedule.
Just curious – what's been your favorite one so far?
My favorite so far was probably the barleywine we brewed for our first anniversary party. I think I still have a couple of bottles of that one stashed away somewhere…
Any beers and/or beer ideas coming up for the Bullpen Series?
We have a long list of beer styles ready to be brewed. There is a cucumber/lime Kolsch conditioning in our walk-in cooler currently, and we have some experimental single-hop pale ales in the works as well.
I plan on brewing at least one (hopefully two) for our Second Anniversary party on October 8th at Strike.
Cheers to 2 Years!
The Second Anniversary party on Saturday, Oct. 8 – from 1pm to 9pm – commemorates the 2-year mark for Strike's South 10th Street brewery and taproom location.
And as demand for Strike beers continues to climb – both Jenny and Drew recently confirmed that Strike's never been busier – the party will also be an occasion to celebrate their accomplishments to date.

$20 gets you a special glass that's yours to keep and 3 pints of your choosing. Everything is a pint that day.
There will be a band, a raffle, a Sports Gallery Silent Auction and more.
On hand will be food trucks Gow Chow (1pm-5pm) and Kushi Yaki (5pm-9pm).
Below are several additional photos from the recent Bullpen Series: Cherry Bonds release day.