Hermitage Brewing Company is hosting an early fall release party at their Tap Room – 1627 S. 7th St. – on Wednesday, September 14 from 4pm to 9pm.
The event celebrates the releases of their next two beers – Wild Blackberry American Sour and Admiral Single Hop IPA.
Hermitage Brewing will also formally unveil the Tap Room's new mural by San Jose artist Erin Salazar, who'll be in attendance.
Mexican eats and wild blackberry pie will be available from El Burrito Loco and Sweetdragon Baking Company, respectively.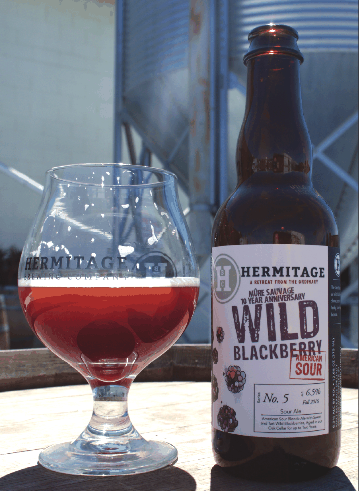 Wild Blackberry Sour: 6.5% ABV
Wild Blackberry Sour is the fifth release from Hermitage Brewing's American Sour series. The beer was aged for up to two years in their oak cellar. This release also serves as a tribute to brewmaster Peter Licht's first ever sour brewed 10 years ago – Mure Sauvage.
I was fortunate to have had a taste recently, and what a treat! With a mouth-puckering goodness with intriguing notes from the barrel aging, I expect this offering to quickly become a favorite among fans of well-crafted, super tart sours.
Additional insights provided by cellarmaster Greg Filippi:
"Our Wild Blackberry American Sour pours a lovely deep purple with a pinkish foam stand, with a slight haze that lets enough light through to beautifully illuminate your glass.
Aromas of oak, vanilla, light smoke, and dark fruits remind you of long aging in oak. The blackberries are noticeable on the nose but not overpowering, hinting at a jammy sweetness.
"The first sip, although puckering, softens quickly as the sweet and tart blackberries commingle with the complexity of the barrel maturation — notes of tannic oak, dark stone fruit, tobacco, vanilla, and a little horsey funk. The flavors continue to develop and change with each sip.
"The finish is fast and very dry, leaving your taste buds as aggressively as it arrived.  Only the slightest blackberry sweetness remains between sips, reminding you to take another."
Single Hop IPA, Admiral: 7% ABV, 70 IBUs
Admiral is the latest hop varietal to be featured in Hermitage Brewing's ongoing Single Hop IPA series. More information about the beer from brewmaster Peter Licht:
"English hops (and English beers) are subtle and elegant. English hops can be reminiscent of a country meadow — light floral notes on top, some woodsy background, all supported by an earthy foundation.
"Of course our single hop series is not really about subtlety. We tend to feature the big, bold 'high impact' hops in prodigious quantities (2 lbs per barrel in the kettle with another 2 lbs per barrel dry hopped). So we were pleased to discover a relatively new English hop that fits the bill. Admiral has all the lovely qualities of the typical English hop, but has them in spades! Powerfully subtle! Is that a thing?
"The Single Hop Admiral features a profound earthiness with notes of pine resin and a hint of spring flowers — all supported by a satisfying chewy bitterness. Cheers!"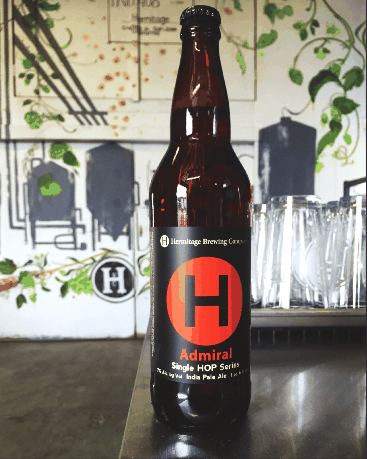 New Taproom Mural
The always affable Joel Wind – Tap Room manager – was pivotal in having the mural project come to fruition.
After months of researching Bay Area muralists, Joel found Erin Salazar of San Jose's Exhibition District. She was eventually commissioned to complete the project.
Joel had this to say about the project:
"The Hermitage Tap Room is adorned with an epic mural designed and painted by Erin Salazar, a renowned and prolific San Jose muralist.
"The piece exists in two parts illustrating the growth of the valley and the flourishing of the brewery within and beyond the valley. The warm, vibrant imagery welcomes all to take a true retreat from the ordinary."