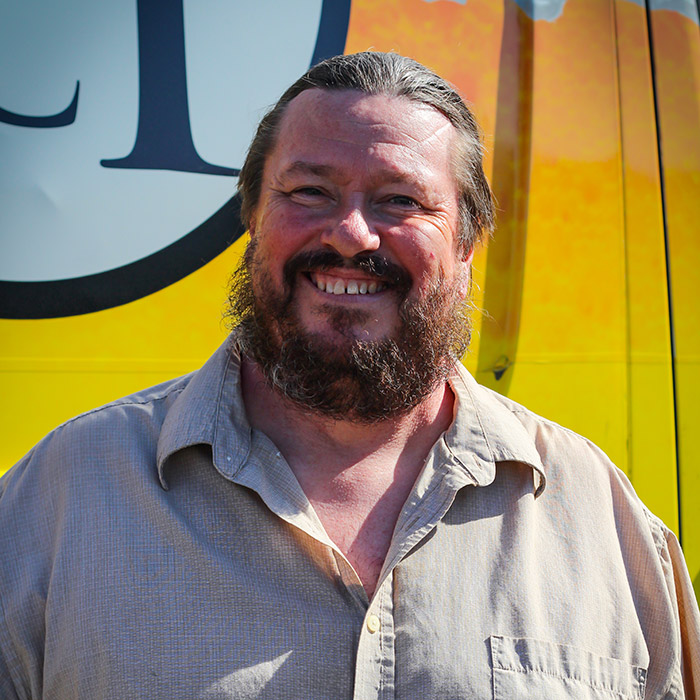 The local brewing community – about 20 breweries at last count – will be coming together Saturday, Nov. 19 at CEFCU Stadium (aka Spartan Stadium at 1257 S. 10th St., San Jose) to rally support for a good person and a good cause – Peter Cogan, the longtime distribution manager for Tied House and Hermitage Brewing Company, and the Leukemia & Lymphoma Society.
Presented by Hermitage Brewing Company in partnership with the San Jose State University Spartan Athletics Department, "For Pete's Sake" Craft Brewfest will take place from 2:30pm to 6:30pm – in effect an epic tailgate party to be followed by the 7:30pm game time kickoff between the San Jose State Spartans and Air Force football teams. It's the final home game of the season for the Spartans.
Tickets – $40 if purchased in advance and $50 for any remaining on the day of the event – include a 5-oz. taster to sample brewery offerings, unlimited tastings and a 50 to 30 yard line game ticket. You'll need code "FORPETESSAKE16" to purchase tickets.
Below is the current list of participating breweries:
Hermitage Brewing Company
Tied House Microbrewery
Firestone Walker Brewing Co.
Santa Clara Valley Brewing
Strike Brewing Co.
Red Branch Cider Company
Rabbit's Foot Meadery
High Water Brewing
Uncommon Brewers
Almanac Beer Co.
Santa Cruz Ale Works
Discretion Brewing
El Toro Brewpub
Bison Organic Beer
Faultline Brewing Company
Gordon Biersch Brewing Company
Rock Bottom Restaurant & Brewery
Seabright Brewery
Sactown Union Brewery
Hermitage Brewing and Tied House Brewery & Cafe national market manager Carolyn Hopkins-Vasquez shares how this one-of-a-kind event came about:
"As soon as we heard the news of Peter's lymphoma, we knew we had to do something, and a beer festival seemed like the perfect fit. SJSU Spartan Athletics has been wanting to work on a beer fest for a while, so it was perfect timing.
"Less than 24 hours after putting the word out about the festival, we had 20 breweries signed up and also had every volunteer position filled. Everything seemed to click easily."
As for the quick response from the local brewing community, Carolyn shares:
"Do I really have to put in writing that Peter Cogan is special? Ugh. Okay, but don't tell him I said anything nice about him. Ha!
"Peter has been around the South Bay brewing scene for almost as long as Tied House. He is the first to volunteer when a brewery needs help with something, whether it be an event, a delivery, anything.
"What's the saying about 90% of life is showing up? Well, Peter always shows up, and when he does, he's on time and brings along his British wit and charming accent.
"He and his signature "Brew Crew" t-shirt and khaki shorts have been working tirelessly to support the local brewing scene for years. After years of Peter helping everyone else out, it's our turn to give back. There are very few people in the area more well-known or well-liked in our profession."
I recently caught up with Peter to get an update on his health; he also graciously took the time to share a bit of his background and to answer some beery questions, including his thoughts about the upcoming beerfest.
Can you share a bit of your background?

I was born in London but raised in the West Country of England, specifically Plymouth, Bristol and Torquay where I lived from age 11 to 18. Sixteen days after my 18th birthday, I left home and moved back to London to work as a chef at the Savoy Hotel.
How did you get into craft beer? Any craft beer "Aha!" moment/experience?
After moving to California in late 1986, I was drinking the typical beers back then – MGD, Corona and stuff like that. I guess my "Aha!" moment came when I heard about a brewery opening just down the street from where I lived. I went there a day or two after it opened and was awed at how crazy busy it was. Eight beers on tap of varying styles? Amazing! I think for the next couple of months I didn't drink anywhere else.
You've told me before your story of how you became a part of the Tied House team. Can you please share the story with me again?

As a regular customer they found out I used to be a chef back in England, so I was "recruited" to help them with events like New Orleans By The Bay at Shoreline where I would grill catfish and alligator sausage all day and be paid in Hurricanes.
Then I worked an event at Squaw Valley as a fundraiser for MS (the Tied House has been sponsoring this event for more than 25 years), and while I was on a chairlift with one of the owners and the GM, they asked if I would be interested in selling beer for them because I was very outgoing and had the English accent. How could I refuse them with a job interview like that?
How's it been working with Tied House (and Hermitage) all these years?
Fantastic. I realized many years ago that one of the secrets to a good life is to be happy at work, and the owners and staff at both places have been instrumental in my happiness.
They have always encouraged me in whatever aspect of the business I happened to be in at the time and have always listened to me with any suggestions or criticisms I might have.
I will never be a millionaire, but I will be happy.
How has it been seeing the growth of the local beer scene these past years?
It's almost like a runaway train. The movement has gathered so much momentum that I can't keep up anymore. I could try 5 new beers a day for a year and barely make a dent in what is available out there.
As much as I love my IPAs, I grew up drinking European Pilsners, and when I find a good one (or Kolsch), I am like a kid in a candy store.
What does the upcoming beerfest mean for you? How is it seeing all the support from the local brewing community?
I used to run the beer side of the Small Brewers Festival of California in Mountain View from the early 90s until its last year in 2004, so I understand what it takes to put on a festival – the organization, the coordination between brewers, volunteers, equipment rental companies, cities to pull permits, charities…
I am humbled by how quickly all of these breweries offered their time and beer to support me and the LLS. Some brewers I have known more than 20 years, some only a few, but each and every one of them agreed to help no questions asked. I am going to be giving out a lot of hugs on the 19th.
Special thanks to Carolyn for putting this together.
How are you doing, Peter?
Overall, pretty damn good. I feel fortunate that so far chemotherapy hasn't been too hard on me, although the third round has been a bit tougher.
I have a PET scan scheduled for the 16th to see how things are progressing, followed by another three rounds of chemo.
I didn't want to see my hair fall out so before I started chemo, I had my signature ponytail cut off and donated it to Pantene so they could use it to make wigs for women with breast cancer.
I have been able to work part time so I am not sitting at home feeling sorry for myself. My brother Dave supplied my mantra for this adventure, and it is simply: "Kick Cancer In The Balls!"
Trust me. With the support I have from everyone, cancer has no chance.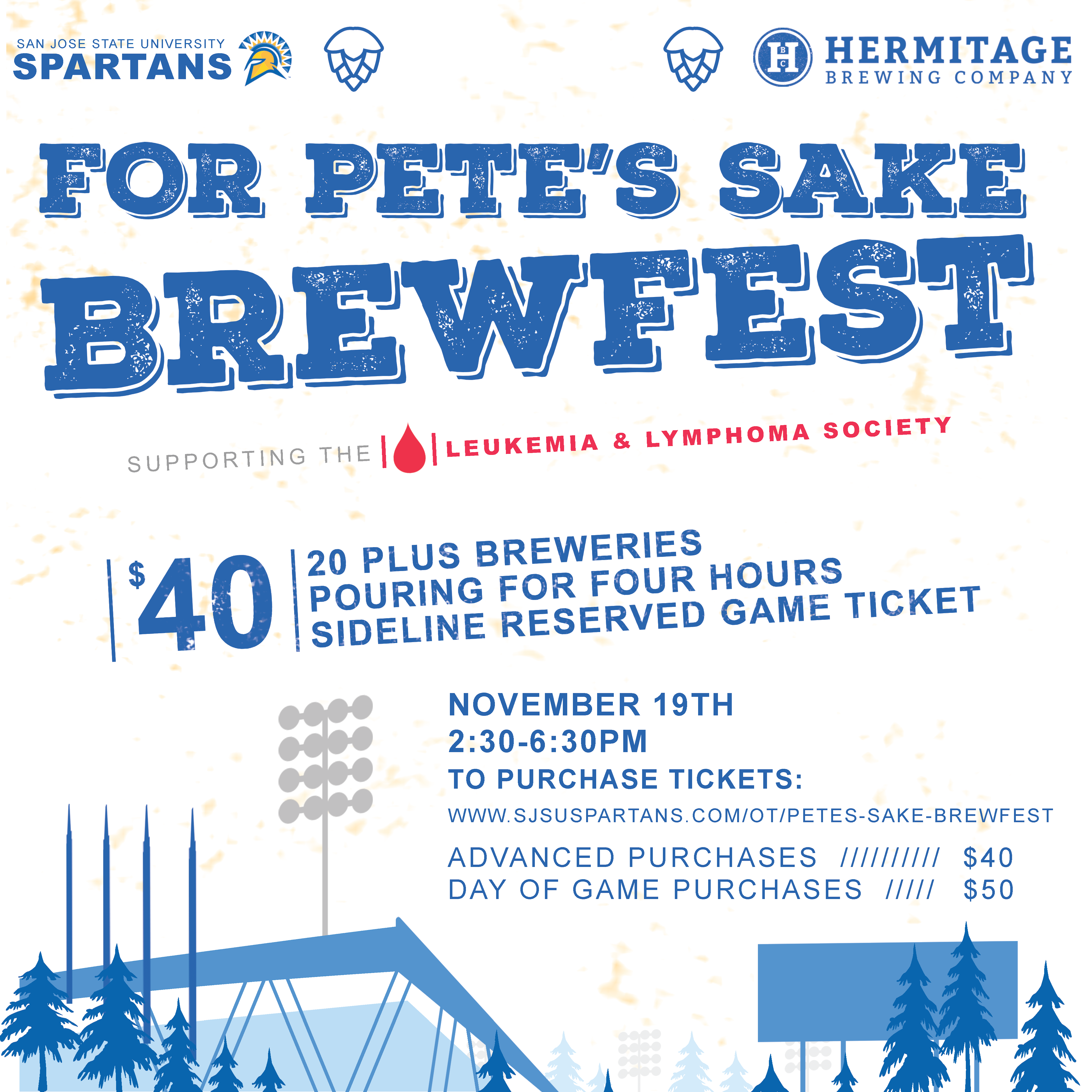 For details about 'For Pete's Sake' Brewfest and to purchase tickets, visit www.sjsuspartans.com/ot/petes-sake-brewfest.html.