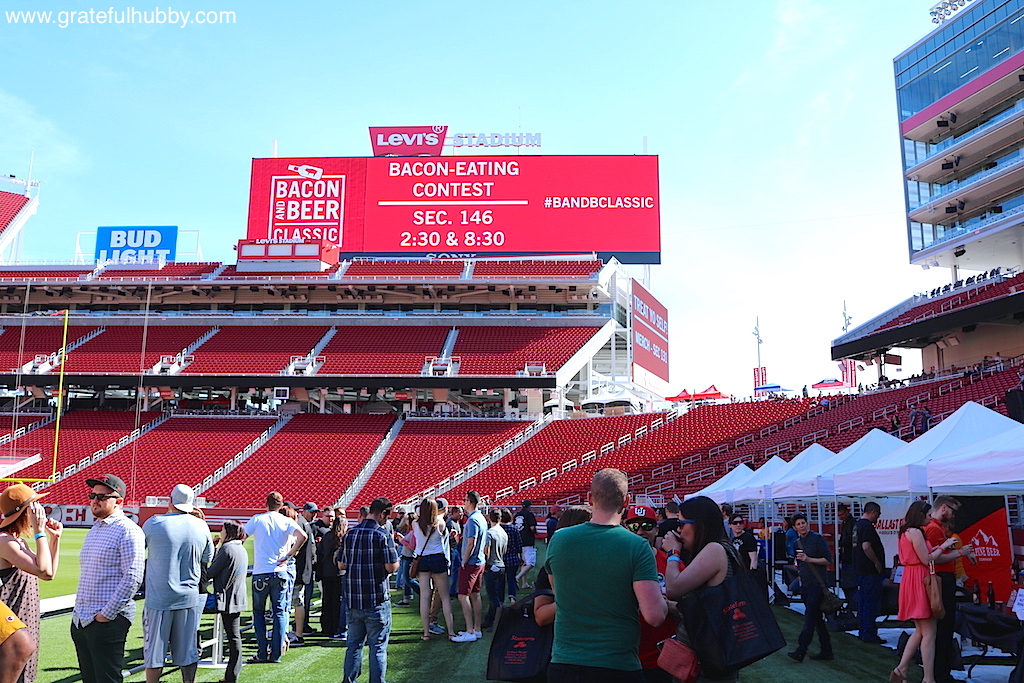 Last year's Bacon and Beer Classic at Levi's Stadium was a highlight for many, including for wifey and me. And we've been eagerly awaiting the announcement of this year's Classic.
No need to wait any longer, as this year's Bacon and Beer Classic – presented by Cannonball Productions – is returning to Levi's Stadium in Santa Clara on Saturday, Feb. 25 and will be held on the field.
Kate Levenstien – Cannonball Productions' founder – is thrilled to host the Classic at Levi's Stadium for the second time:
"Levi's Stadium is an absolutely beautiful backdrop for the event, and I can't wait to get on the field! From more ticket types, to new vendors and exciting VIP lounge additions, guests can expect the same festival with a fresh twist and a few surprises."
Over 30 local restaurants will serve up original bacon-infused dishes to be enjoyed by the 100+ offerings from over 50 breweries.
A panel of judges – including yours truly – will be on site to rate the food and drink and award winners in select categories.
The first wave of breweries was recently announced, including South Bay locals:
Golden State Brewery
Red Branch Cider Company
Strike Brewing Co.
Umunhum Brewing
Wildcide Hard Cider (Aurum Cider Co.)
Additional breweries include:
Anchor Brewing
Anderson Valley
Ballast Point
Carneros Brewing
Coronado Brewing
Devil's Canyon Brewing
Firestone Walker
High Water Brewing
Hop Valley Brewing
Knee Deep Brewing
Lagunitas
Lost Coast Brewery
Mother Earth Brew Co.
New Bohemia Brewing
Oskar Blues
South City Ciderworks
Sonoma Springs Brewing
Speakeasy Ales & Lagers
T.W. Pitchers' Brewing
Uinta Brewing
Working Man Brewing Co.
Recently announced restaurants:
Alicia's Tamales Los Mayas
Armadillo Willy's BBQ
Cal Coast Kettle Corn
Cross Hatch Eatery
D'maize Restaurant
Fattoria e Mare
Faultline
Habana Cuba Restaurant
Hey Hey Gourmet
Izzy's Cheesesteaks
Jerky Hut
Kindred Cooks
Nom Burger
Nousa's Cakes & Sweets
Sammy G's Pizzeria
Sweetdragon Baking Company
Tres Truck
In addition to unlimited sampling, guests can enjoy giant Jenga, a photo booth and bungee run, as well as brand themselves with bacon and beer-inspired tattoos, compete in a bacon eating contest and more.
The first-place winner of the bacon eating contest will take home a year of Hormel Black Label bacon; the second-place winner will take home a Duff Goldman gift basket from Tylina Foods.
Tickets for Bacon and Beer Classic
Guests can attend the afternoon (1-4pm) or evening (7-10pm) session on Saturday, Feb. 25.
For the first time, a Power Hour ticket is being offered along with General Admission, Early Access, and VIP tickets. Early Access ticket holders enter half an hour early, while Power Hour and VIP ticket holders enter a full hour early.
In addition to their early entrance, VIPs can enjoy a private lounge on the 50-yard line, stadium tours, special guest appearances, beer cocktails, exclusive food tastings and more.
General Admission tickets are currently selling at $69 and VIP tickets are selling at $129.
All tickets include a commemorative tasting glass and access to the Bacon and Beer Classic mobile app for vendor information, special partner discounts, a stadium map and more.
15% Off Discount Code
Use discount code CHEERS for 15% off current ticket prices. Direct link to tickets: http://www.baconandbeerclassic.com/santa-clara-bacon-and-beer-classic-2017-tickets/
Check out my photos from previous local Bacon and Beer Classics:
About Bacon and Beer Classic
Hosted in sports stadiums across the country, the Bacon and Beer Classic will travel to over seven destinations in 2017, including NYC's Citi Field, Seattle's Safeco Field, and Denver's Mile High Stadium. Cannonball Productions works hard to make this national festival feel unique to each city.
Along with a variety of charitable organizations, Cannonball Productions is partnering with a local food recovery program to save and donate leftover food.
For more information about the festival, visit: www.baconandbeerclassic.com
Direct link to tickets: www.baconandbeerclassic.com/santa-clara-bacon-and-beer-classic-2017-tickets/
Facebook: facebook.com/bandbclassic
Twitter: @bandbclassic
Instagram: @bandbclassic
Hashtag: #bandbclassic