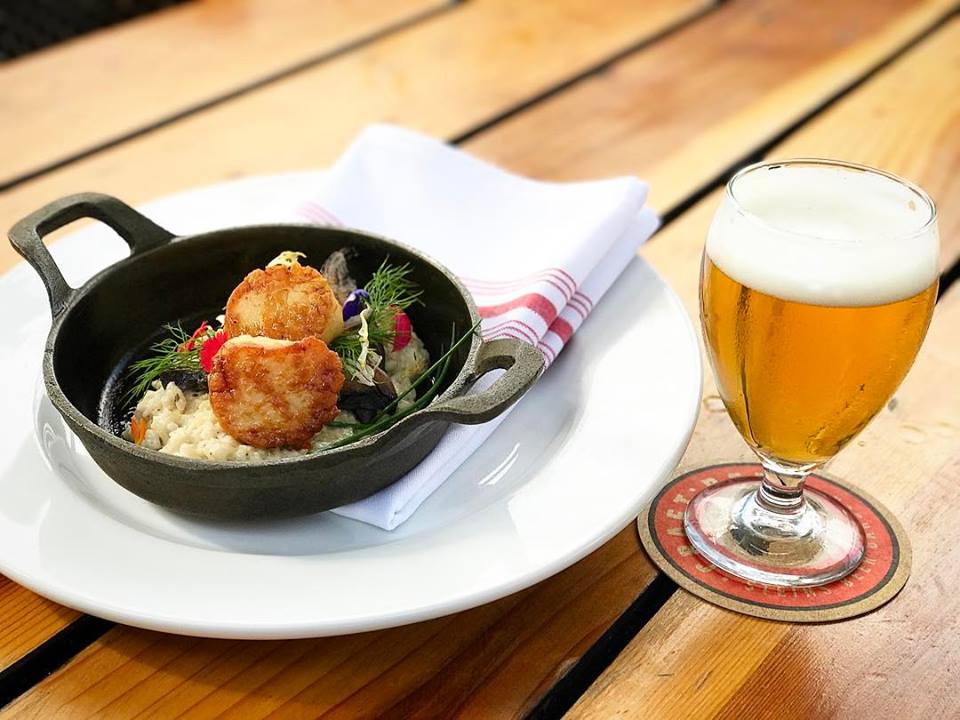 Steins Beer Garden & Restaurant will be hosting three beer events during the coming week, and Steins manager Lynna Nguyen invites one and all to come out and enjoy good food, service, atmosphere and – of course – tasty beer.
Cascade Brewing Tap Takeover, Saturday, Feb. 11 at 5pm
The beer list featuring Oregon's Cascade Brewing:
Cranberry, ABV: 7%. This NW style sour wheat ale was barrel aged for up to 12 months with cranberries, orange peel and cinnamon. Soft aromas of cranberries and light floral notes start this beer off. Tart, dry notes of sweet cranberries with hints of wild strawberries on the palate give way to a pronounced dryness and a lingering finish of cranberries and spice.
Strawberry, ABV: 7.1%. This NW style sour ale is a blend of wheat and blond ales aged oak wine barrels with strawberries and vanilla beans for up to twelve months. Bright and crisp, the 2015 Strawberry captures the essence of fresh strawberries with subtle notes of oak, vanilla, and fruit preserves.
Pumpkin, ABV: 11.4%. This NW style sour old ale is no trick, it's all treat. We smashed and triple roasted 50 lbs of pumpkin down to 6 lbs, then aged the beer for 11 months on the roasted pumpkin in rum barrels. The aromas of spiced rum, mingled with the soft notes of roasted pumpkin, are notice up front. Spice, roasted pumpkin and rum is followed by a soft warming from within.
Blueberry, ABV: 7.33%. This NW style sour ale blends wheat & blond ales that were oak aged in barrels for 6 mths, then additionally aged 4 mths on fresh blueberries. Huge herbal notes of dense blueberries in the nose give way to hints of oak & a dusty floral note. Rich earthy notes of dark fruit on the palate lead to a tart finish that dries out to a base note of blueberry skins.
Noyaux, ABV: 8.94%. This NW style sour ale features blonds and triples aged on oak for 18 to 24 months, then additionally aged for 12 months on raspberries and apricot noyaux.
Sang Royal, ABV: 10.12%. This NW style sour ale was made with various red ales that were aged in oak with Cabernet Sauvignon grapes, then blended with red ales that were aged in Port and Pinot Noir barrels.
Along with individual pours, flights will be available.
'My Bitter Valentine' Featuring Fort Point Beer Company, Tuesday, Feb. 14 at 5pm
Steins will be offering up a special 'Crispy Sweet, Salty Pork' appetizer along with the following offerings from SF's Fort Point Beer Company:
SFBW Collaboration Beer (Kölsch style, ABV 5.3%). This year's annual collaboration beer – New Frontier – was brewed at Fort Point Beer Company. Japanese satsuma provides notes of zesty citrus, while Pacific Northwest Douglas Fir lends a light pine aroma to the finish. It's a balance of old-world tradition and modern technique.
Standard American Pale Ale, ABV 5.5%. A moderate, refreshing ale with noticeable hop aroma balanced by supporting malt flavors.
Animal Tropical Modern IPA, ABV 7%. This is a big, wild and aromatic IPA. Amarillo and Meridian hops give the beer a sticky orange mid-palate that's balanced with a classic IPA bitterness from an early addition of Centennial. All of this wild hop action sits on top of a fairly simple malt bill. We use a blend of winter-grown Pearl and Pilsner malts to create a light and delicately sweet foundation.
Moonphase Bourbon Barrel-Aged Quadruple Ale, ABV: 13.0%. A unique reflection of old-world Belgian Quadrupel ales, Moon Phase shines brightly full of bourbon and charred oak. Notes of gingersnap, toasted almond and toffee elevate Moon Phase's smooth alcohol warmth and fade into a gentle, sustained finish. A delicate blend of smoky Buffalo Trace and Smooth Ambler Rye bourbon flavors, Moon Phase's complexity rises with every sip.
Look for flights of the four beers to be available as well.
4-Course Beer Dinner Featuring Elkhorn Slough Brewing, Thursday, Feb. 16 at 6pm
The following four-course, beer-pairing menu features offerings from Watsonville's Elkhorn Slough Brewing. Brewmaster Michael Enos specializes in small batch specialty beers – with a focus on barrel-aged wild ales – crafted from locally sourced ingredients.
Amuse (a bite-sized appetizer served to prepare your palate for the meal):
Chef Selection Amuse
Paired with Starlight (mixed-culture wild rye ale with brett, ABV 6.8%)
Appetizer:
Winter Squash Soup
Paired with Goose Blind (juicy central coast IPA, ABV 6.9%)
Entree / Choice of:
Hand Cut Rib Eye, root vegetable puree, roasted cipollini onions, fresh herbs
Paired with Love and Marriage (imperial IPA, ABV 9.3%)
-OR-
Pan Seared Diver Scallops, roasted trumpet mushrooms, risotto with parmigiano reggiano
Paired with Love and Marriage (imperial IPA, ABV 9.3%)
Dessert:
Chocolate Dream Trio
Paired with Muddy Water Porter (robust porter, ABV 6.8%)
Tickets are $65 per person (plus tax and tip), and reservations are requested. Dinner times are available every 15 minutes from 6pm to 8:30pm.
Click here to make your reservations. For any questions, contact event manager Rachel at rachel@steinsbeergarden.com or (650) 386-1367.