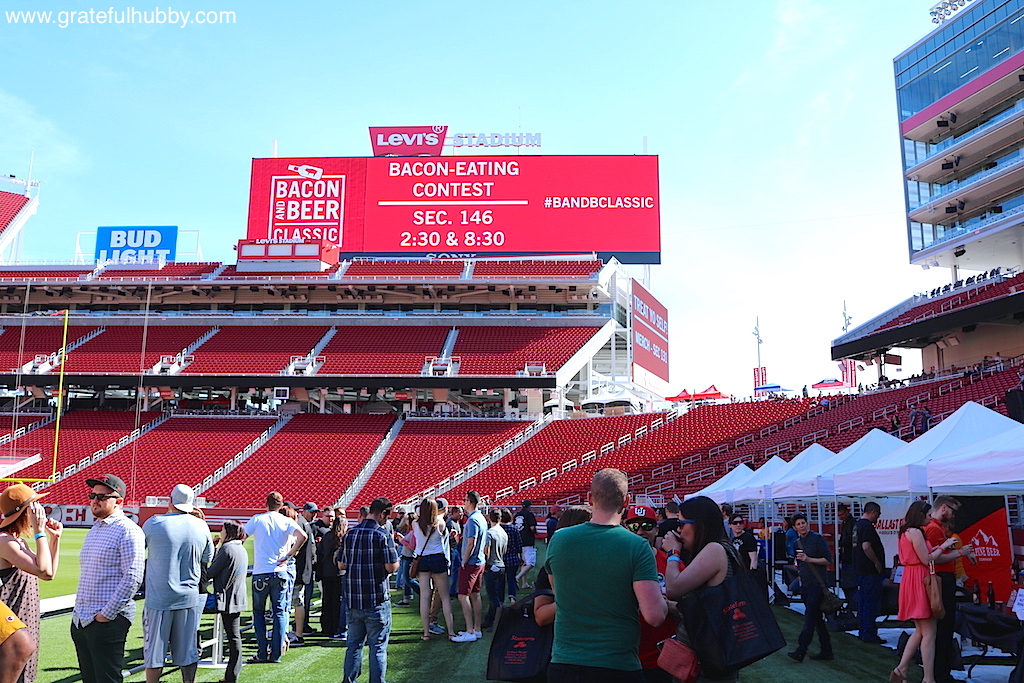 The final lineup of participating breweries and restaurants – and their bacon-related dishes – is set for the upcoming Bacon and Beer Classic taking place Saturday, Feb. 25.
Participating Breweries & Cideries
10 Barrel
Anchor Brewing
Anderson Valley
Ballast Point
Berryessa
Carneros Brewing
Coronado Brewing
Devil's Canyon Brewing
Elysian
Firestone Walker
Golden State Brewery
Guinness
High Water Brewing
Hop Valley Brewing
Knee Deep Brewing
Kona Brewing
Lagunitas
Loma Brewing
Lost Coast Brewery
Mendocino
Mother Earth Brew Co.
New Bohemia Brewing
Oskar Blues
Red Branch Cider Company
Saint Archer
San Francisco Brewing
Sierra Nevada
South City Ciderworks
Sonoma Springs Brewing
Speakeasy Ales & Lagers
Strike Brewing Co.
T.W. Pitchers' Brewing
Uinta Brewing
Umunhum Brewing
Wildcide Hard Cider (Aurum Cider Co.)
Working Man Brewing Co.
Participating Restaurants and Bacon-Related Dishes
7 Stars Bar & Grill: Bacon & Linguica Balls w/ Spicy Ketchup
Alicia's Tamales Los Mayas: Mini Tamales w/ Pinto Beans, Jalapeño and Bacon
Armadillo Willys BBQ: Fully Loaded Grits topped with Pulled Pork and Bacon
Bourbon Steak and Bourbon Pub: Bacon Banh Mi
Cal Coast Kettle Corn: Savory Cheddar Cheese & Bacon Kettle Corn
Cross Hatch Eatery: Cold Yam Noodles w/ Pork Belly
Fattoria e Mare: Fried Bacon Jalapeño Aioli Calzones
Faultline: Bacon Rice Krispies
Habana Cuba Restaurant: Cuban Rice w/ Bacon
Hey Hey Gourmet: Bacon Tomato Dip
Izzy's Cheesesteaks: Bacon Cheesesteak Shots
Jerky Hut: Bacon Jerky
Kindred Cooks: Spicy Bacon Caramels
Loma Brewing Company: Whiskey Glazed Bacon on Bacon Chip w/ Bacon Beer Cheese
Nom Burger: Jalapeño Bacon Sliders
Psycho Donuts: Dead Elvis Donut Holes
Roots and Rye: Braised Pork Belly w/ Bacon Jam
Sammy G's Pizzeria: Classic Breakfast Pizza
Snake & Butterfly: Bacon Caramel & Bacon Toffee
Spread Deli & Bottles: BLT Sliders
Sunny Side Up: Maple Glazed Bacon Pancakes
Sweetdragon Baking Company: Bacon Brittle Cookie
The Boneyard: Pulled Pork Deviled Eggs w/ Smoked Bacon
The Halford: Bacon & Cheddar Hushpuppies w/ House-made Bacon & Beer Cheese
Tres Truck: Street Style Bacon Wrapped Hot Dogs
Wok in the Stadium: Gluten Free Kick Ass Spicy Bacon Noodles
15% Off Discount Code
Use discount code CHEERS for 15% off current ticket prices. Direct link to tickets: http://www.baconandbeerclassic.com/santa-clara-bacon-and-beer-classic-2017-tickets/