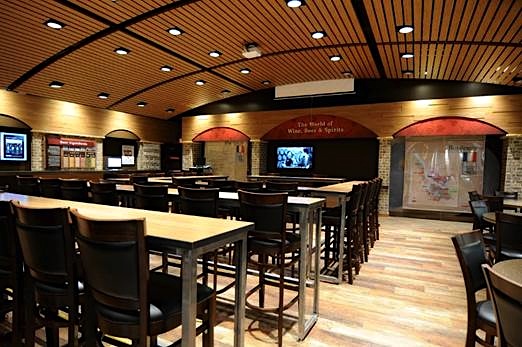 Total Wine & More – the nation's largest independent retailer of fine wine, spirits and beer – is expanding its Bay Area presence with the opening of a new location in Mountain View. Their newest store follows their first Bay Area store in Fremont which opened last year in February.
Total Wine & More in Mountain View – located at 1010 Rengstorff Ave. – officially opens to the public at 9am on Thursday, April 13.
There'll be wine and beer tastings, live music and giveaways throughout the grand opening weekend, and the store will donate 10% of all wine sales to the non-profit Computer History Museum.
Edward Cooper, Total Wine & More's vice president for public affairs and community relations, says: "Supporting the local community is an essential part of our business operations. Over the past four years, Total Wine & More has donated more than $17 million to local organizations in the markets we serve. Our partnership with the Computer History Museum reflects this commitment, and we look forward to lending our support to this iconic local destination."
Total Wine & More is known for its large selection and competitive pricing, offering more than 8,000 wines, 3,000 spirits and 2,500 beers, including hard-to-find labels and locally produced items.
Cooper notes: "Our selection is so vast that we're able to offer something to every customer, and cater to specific needs regardless of taste, experience, or preference. We've proven that we can satisfy our customers, from the beer enthusiast who is interested in learning more about local brews, to the more experienced wine connoisseur seeking new vintages to try."
He adds that other factors that contribute to the company's success include market-leading prices, incredible customer service and knowledgeable staff.
Each Total Wine & More store employs approximately 50 team members who receive more than 100 hours of training to develop a solid understanding of the store's many products before assisting customers. This includes building familiarity with various wine regions, production methods, varietals, brew styles and tasting profiles. In addition, the retailer organizes educational trips for employees to further expand their knowledge and expertise on products.
Cooper adds: "We take more than 70 team members to Napa and Sonoma Valley wineries each year, and more than 50 team members to Europe every other year to learn more about the great wines of France, Spain and Italy."
About Total Wine & More
Founded and co-owned by brothers David and Robert Trone, Total Wine & More is the nation's largest independently owned retailer of fine wine, beer and spirits. Based in Bethesda, Maryland, the company has grown from the first, small store in Delaware to a company that now has over 150 superstores in 20 states. The company's unmatched selection of products, combined with low everyday prices and expertly trained wine associates, brings a unique shopping experience to the customer. Total Wine & More has the distinction of being a four-time National Retailer of the Year – recognized by Beverage Dynamics in 2008, Market Watch in 2006 and Wine Enthusiast in 2004 and 2014. Total Wine & More is the only retailer in the country to have twice been named Wine Enthusiast's retailer of the year. Since opening its first store in 1991, Total Wine & More has been committed to being the premier wine retailer in every community that it serves. More information on Total Wine & More including its community outreach efforts, product offerings, stores locations and hours of operations are available at www.totalwine.com.