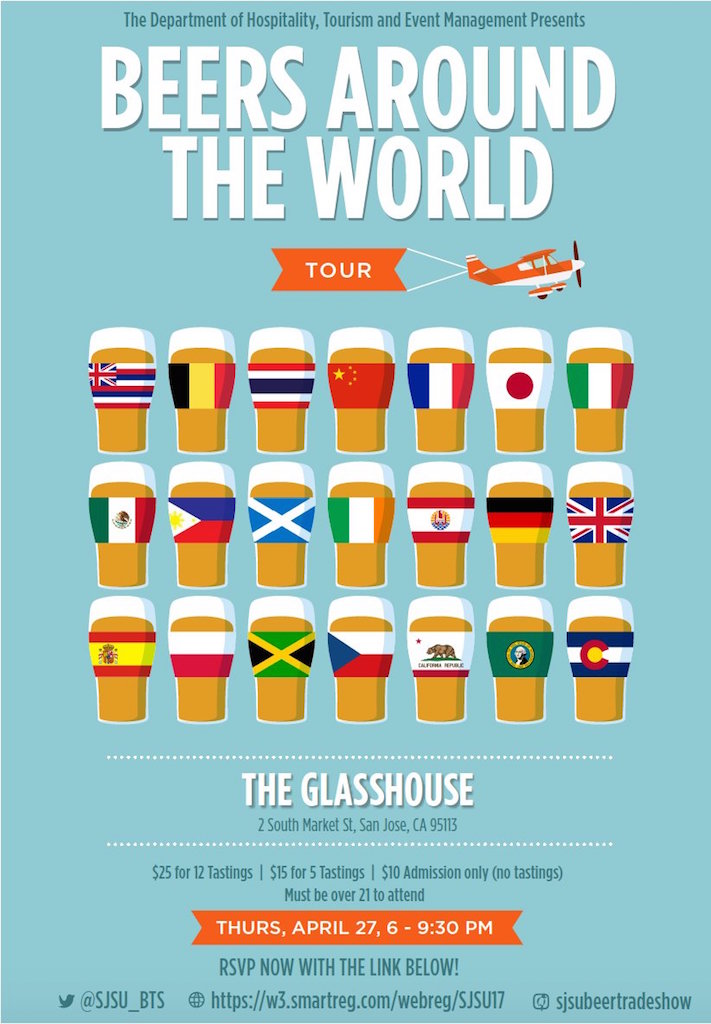 San Jose State University's Department of Hospitality, Tourism and Event Management presents the next installment of the "Beers Around the World Tour," taking place Thursday, April 27 from 6pm-9:30pm at The Glasshouse in downtown San Jose (2 S. Market St.).
The event is run entirely by SJSU students enrolled in select courses – including beer appreciation and event industry classes – and provides real, hands-on experience in putting together a big event project from scratch to finish.
Expect the format to be similar to that of the previous event held this past December – numerous booths set up throughout the venue representing different countries with beers and hors d'oeuvres available to taste.
According to Professor and Internship Coordinator Dr. Kate Sullivan, the upcoming trade show will be the largest one yet, and for the first time tickets can be purchased by non-SJSU folks.
For registration information and to purchase tickets, click here.
I had the good fortune of being able to attend the previous Beer Around the World event (click here for my recap post) and really look forward to this upcoming one. I'm happy to be helping support future hospitality professionals one sip at a time. :)
Go Spartans!
Cheers! Prost! Gunbae!
~Andy