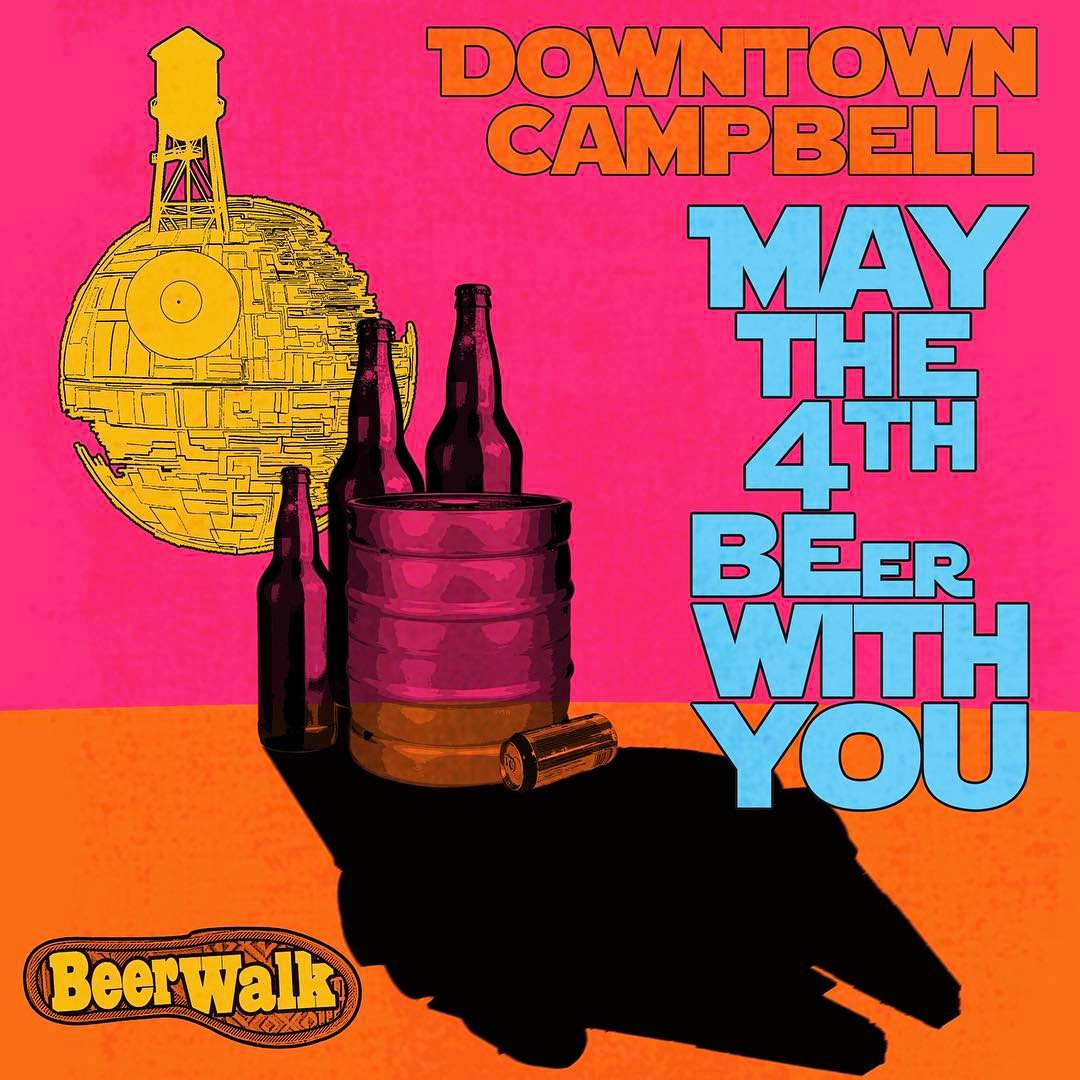 The upcoming Beerwalk on Thursday, May 4 will mark the 6th annual visit to downtown Campbell and the 2nd year in a row that the event will be Star Wars themed.
When
Thursday, May 4, 6pm-9pm
Breweries
Altamont Beer Works
Anchor Brewing Company
Ballast Point Brewing Company
Breckenridge Brewery
Calicraft Brewing Company
Campbell Brewing Company
Discretion Brewing
Elysian Brewing
Firestone Walker Brewing Co.
GearTooth AleWerks
Golden Road Brewing
Golden State Brewery
Goose Island
Heretic Brewing Company
Hermitage Brewing Company
High Water Brewing
Lagunitas Brewing Co
Lost Coast Brewery
Saint Archer Brewing Company
Santa Clara Valley Brewing
Sierra Nevada Brewery
Sonoma Springs Brewing Company
Strike Brewing Co.
Tilt Brewery
Uncommon Brewers
Tasting Locations
The Art Beat
Bestie's Boutique
Blueline Pizza
Brown Chicken Brown Cow
CaliMuscle
Campbell Brewing Company
The Celtic Shoppe
Freshly Worn Furniture
Frost Cupcake Factory
Khartoum
Liquid Bread Gastropub
The Olive Shop
Redemption
Rocket Fizz
Socialight
Sneak & Butterfly
Spread Deli & Bottles
Steepers
Sushi Confidential
Tessora's
Therapy Stores
The Courtyard (Bombshell Boutique, The Cruiser Shop, Embelish Hair Lounge, Pout Beauty)
Check-In Times and Location
Check-in: 5pm-8pm
Location: Khartoum, 300 Orchard City Drive #101, Campbell, CA 95008
Tickets
Tickets are $30 throughout this weekend and go up to $35 starting next week. A limited number of tickets will be available for $38 the day of the event.
Tickets include beer samples, custom glass and a tasting passport. To purchase tickets, visit the Beerwalk's Eventbrite page.
For my pictures from last year's event, click here.
MAY THE 4TH BEer WITH YOU!