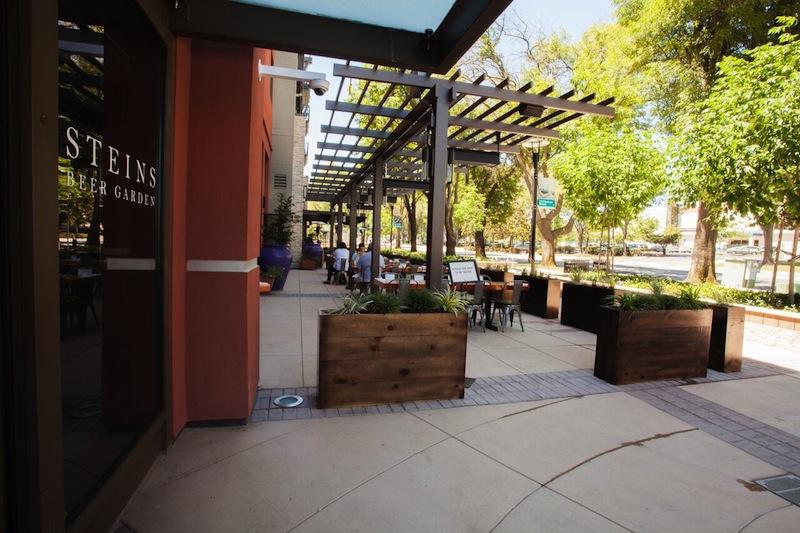 After a series of soft openings, along with some last-minute construction updates, Steins Beer Garden & Restaurant officially opens today in Cupertino (10088 N. Wolfe Rd., Ste. 130).
Located just down the road from the new Apple campus, the Cupertino site marks the second location for Steins restaurant.
An official ribbon cutting ceremony in honor of today's grand opening is set to take place at 3:30pm with complimentary appetizers and beer tasters to be served afterwards.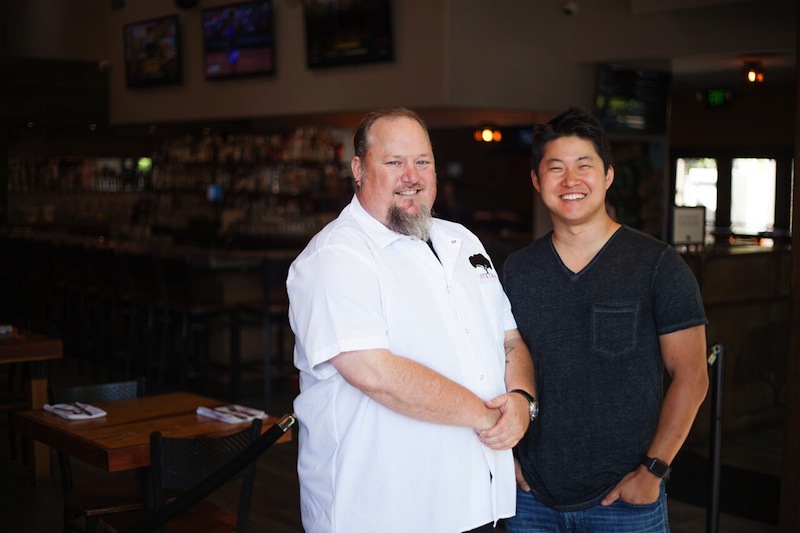 Owner Ted Kim and executive chef Colby Reade have retained the original Mountain View location's beer-focused beverage program (30 draft beers; 20 year round staples and 10 rotating seasonal brews) and made-from-scratch food menu.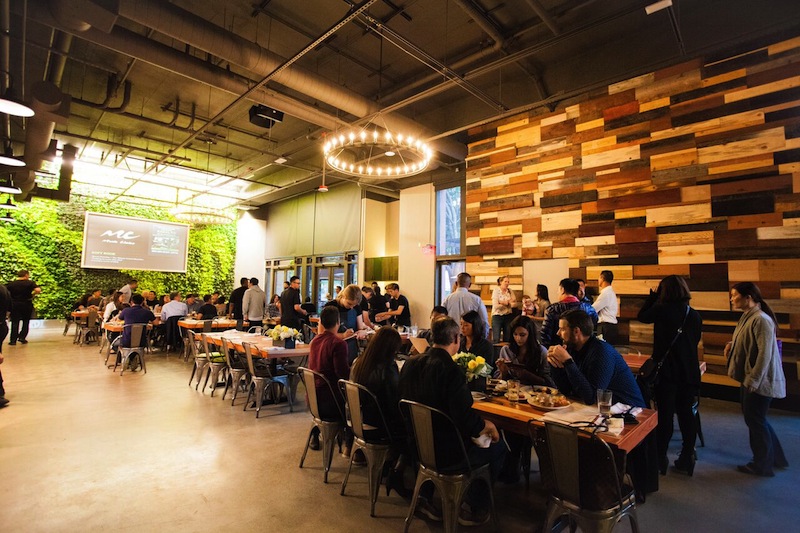 The interior features an updated industrial-inspired atmosphere. More below from a recent media release:
The Space
Steins again enlisted Marc Dimalanta of D-Scheme Studios to head the architectural design of the new space. The restaurant interior boasts a 6400 ft² dining room accented with bright copper, reclaimed wood panels and filament bulbs glowing on metal-worked light fixtures for an industrial interpretation of the classic European beer hall. The space's earth-toned metal highlights are juxtaposed with a lush living wall designed by Habitat Horticulture to bring a touch of the traditional outdoor biergarten inside.
Paired with an accompanying 1568 ft² al fresco patio, the entire restaurant space is reservable and can also accommodate smaller private events as sectioned parties.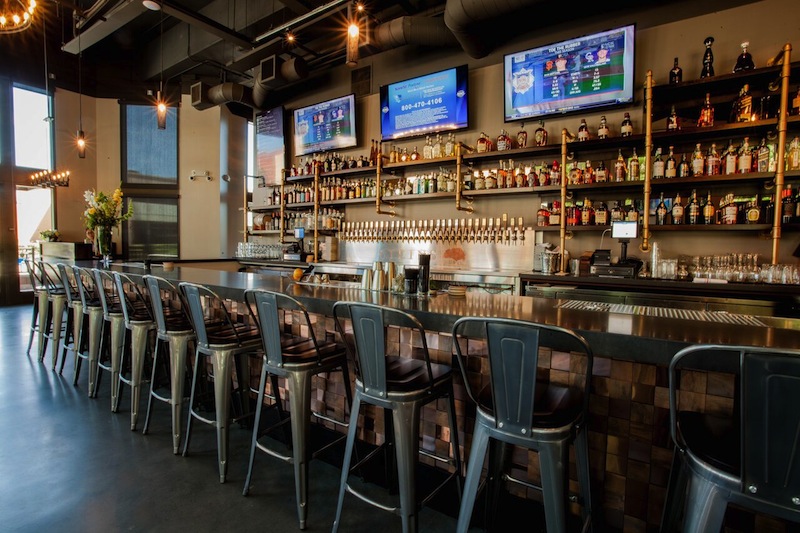 The Beer
Akin to its Mountain View location, Steins Cupertino employs an innovative direct-draw beer draft system designed for dispensing each pour under optimal conditions for near-perfect flavor and consistency. Guests can expect a great international beer list with a focus on local craft brewers. Steins offers 30 draft beers; 20 year round staples and 10 rotating seasonal brews.
In addition to the myriad craft and import beers on draft, Steins Cupertino offers a robust wine program as well as a full-bar and seasonal craft cocktails.
Upholding a high standard of beer service, all front-of-house staff must successfully complete Steins' stringent beer training program. Additionally, all bar staff must successfully complete and pass the Cicerone Certified Beer Server program.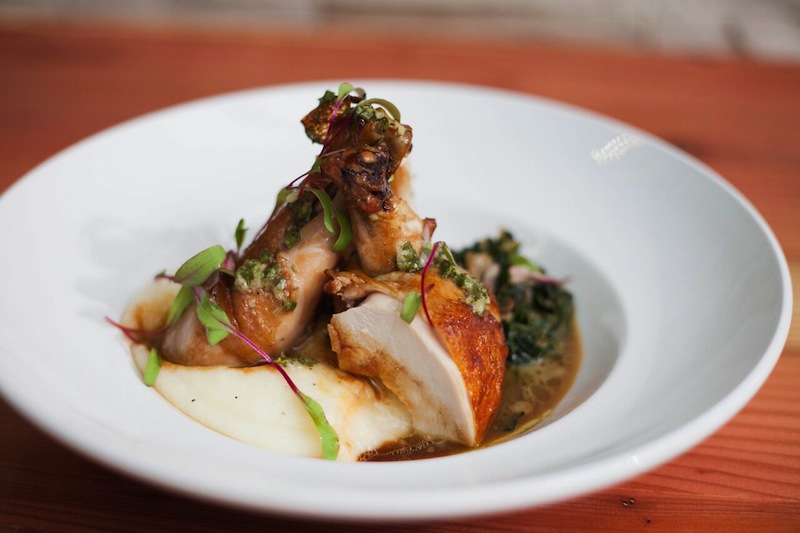 The Food
Executive Chef Colby M Reade (Hawthorne Lane) parallels the quality characteristic of Steins' ambitious beer selection with an all-scratch kitchen featuring New American comfort food. The opening menu at Steins Cupertino includes favorites like the Steins Burger made from a house-ground blend of dry-aged short rib, brisket and sirloin, the Fresh Baked Pretzel with caraway beer mustard and the Sonoma Lamb Trio's brown butter green beans and salsa vert.
The kitchen will open with lunch, happy hour, and dinner with brunch to follow shortly.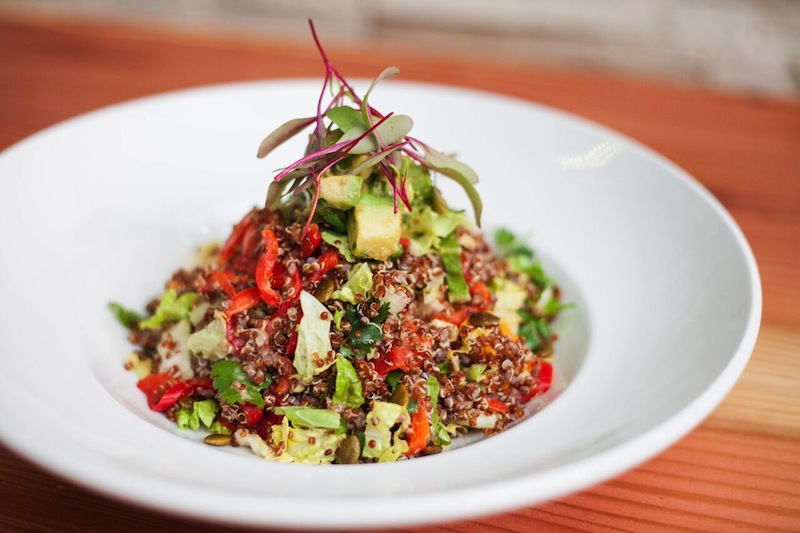 About Steins
Steins Beer Garden & Restaurant is the vision of Bay Area native Ted Kim. Kim has more than 20 years of small business experience, including his tremendous success with Northern California's Paris Baguette stores.
The Steins concept is a modern American take on the classic German biergarten, infusing rustic elements of nature with brilliant contemporary architecture. Each location offers the perfect escape for guests to drink and be merry.
With locations in Mountain View and Cupertino, Steins is open everyday from 11am – 11pm and until 11:30pm on Friday and Saturday. For more information, visit www.steinsbeergarden.com and visit the restaurants on Facebook, Instagram and Twitter.