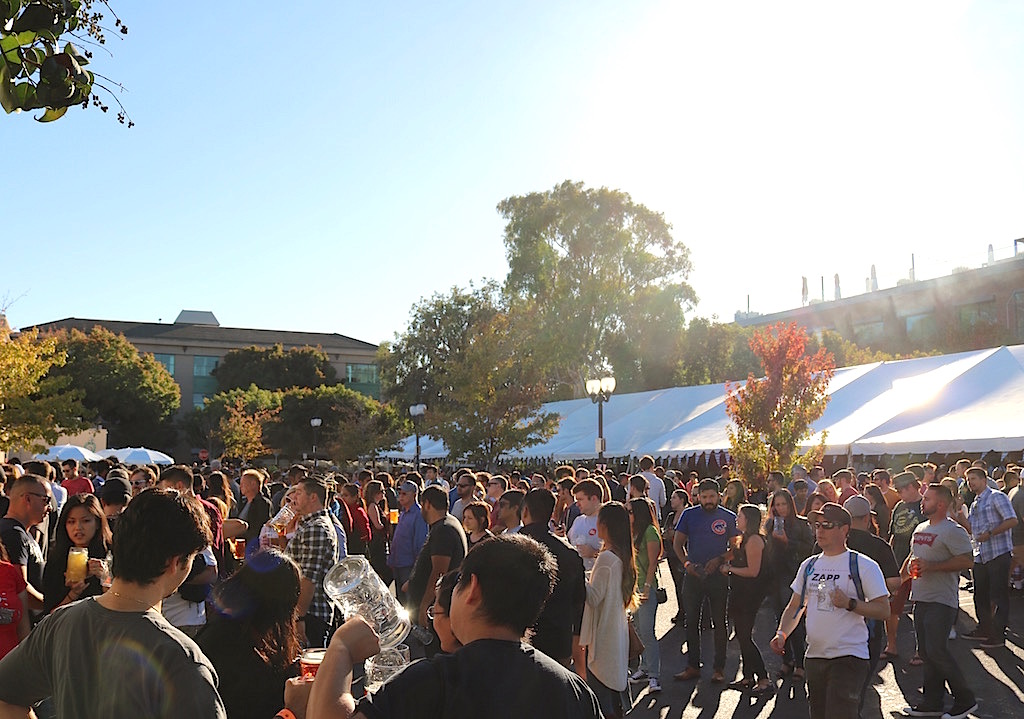 My favorite local Oktoberfest celebration is set to take place this weekend – the fifth annual Mountain View Oktoberfest presented by Steins Beer Garden & Restaurant and the Mountain View Chamber of Commerce.
The event will be held on Saturday (Sep. 30) and Sunday (Oct. 1) from 11am to 7pm each day in the open-air parking lot located directly behind Steins at Bryant and Dana Streets, one block west of Castro St. The weather looks to be picture perfect.
Mountain View Oktoberfest will feature traditional German food, German beers and live entertainment, including music by Big Lou's Accordion, The SF German Band and Alpiners USA. Check the MV Oktoberfest website for the entertainment schedule.
There'll also be an expansive Oktoberfest tent, traditional Oktoberfest wood tables and benches for communal sitting, pretzel eating and stein holding contests, traditional songs and dance, as well as bouncy houses and face painting for kids.
Steins owner Ted Kim shares: "We're happy to be celebrating our fifth year hosting the Mountain View Oktoberfest! Since its inception, the festival has grown to become a city staple and one of the most anticipated events of the year.
"This year at the Mountain View Oktoberfest guests will be able to choose from seven different beer offerings: six authentic styles from German beer houses and a special local brew combining sweet Munich malts and west coast hops.
"Additionally, there will be plenty of eats as Teske's Germania and others serve up delicious German cuisine.
"Come out and join us for another fun-filled Oktoberfest! All ages welcome!"
Food & Beer
A variety of food will be available for purchase from four different vendors, including traditional German dishes from German restaurant Teske's Germania.
German (and German-style) beers include:
Doppelbock Dunkel – Andechs
Pilsner – Paulaner
Helles Lager – Weltenburger
Oktoberfest – Hofbräuhaus
Grapefruit Radler – Steigl
Hefeweizen – Weihenstephaner
Hoptoberfest – South Bay
Prices and Ticket Information
$11 for 0.5-liter commemorative stein; requires 1 drink ticket to fill
$16 for 1-liter commemorative stein; requires 2 drink tickets to fill
$25 for 1-liter boot (limited quantities); requires 2 drink tickets to fill
Drink tickets: $9 for 1 drink ticket and $35 for 4 tickets.
Food: $6-$15 (depending on the dish).
Charity
A portion of proceeds from the event will benefit SOAR – Student Outreach Award Resource – a partner charity with the Chamber of Commerce. SOAR is known throughout the community for its financial help and scholarship awards for high school and community college students looking to advance their education.