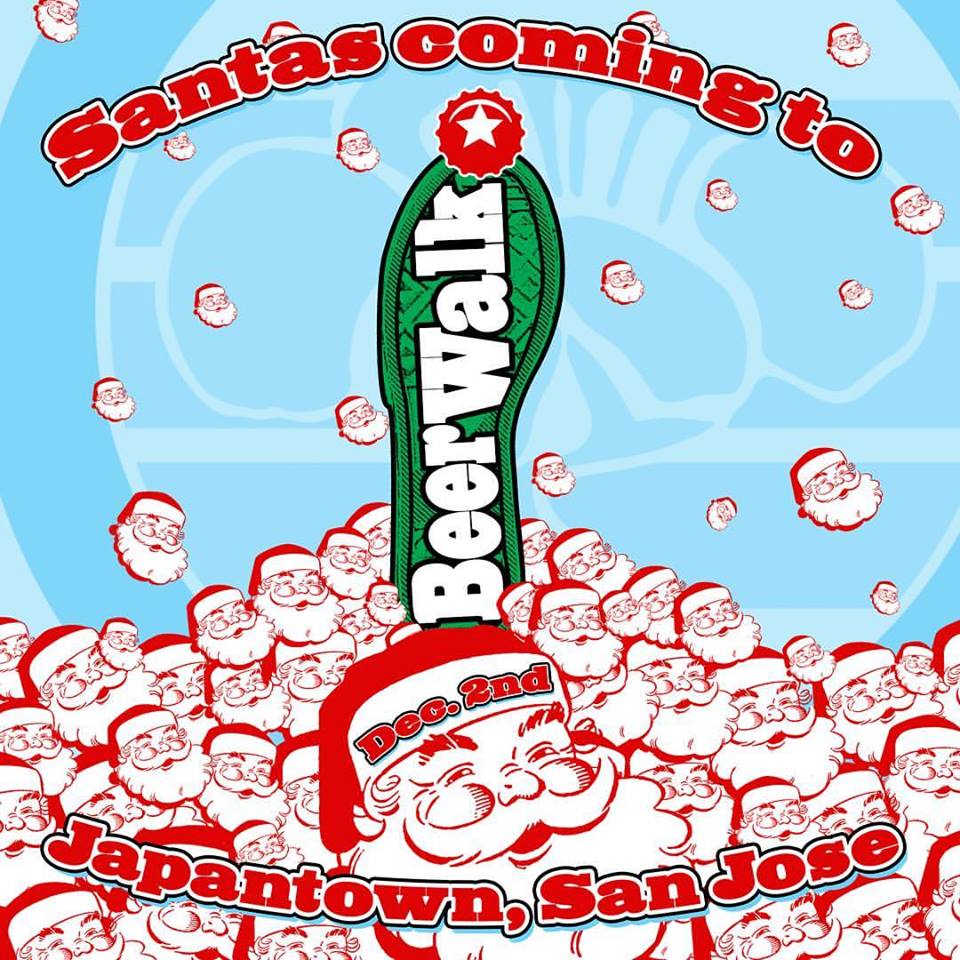 The next Beerwalk is set to take place Sat., Dec. 2 in Japantown from 2pm-5pm.
It's the holiday edition, and guests are welcome to participate throughout Japantown in their favorite holiday attire.
Tasting Locations
7 Bamboo Lounge
Banana Crepe
Biscuits – Give a Dog a Bone
Carisoul
Cielito Lindo Restaurant
Classic Loot
East Taylor Barbershop
The Get Down
Happi House Restaurant
Headliners
Jack's Bar & Lounge
JT Express
Kogura Company
Nichi Bei Bussan
Secondhand Hustle
Ukulele Jams
Wenzhou Fish, Noodles & More
Zonkey
and more…
Breweries
Altamont Beer Works
Anderson Valley Brewing Company
Ballast Point Brewing Company
Firestone Walker Brewing Co.
Hapa's Brewing Company
Hermitage Brewing Company
Golden State Brewery
Gordon Biersch Brewing Company
Lagunitas Brewing Co
Lost Coast Brewery
Santa Clara Valley Brewing
Strike Brewing Co.
Sierra Nevada
and more…
Tickets are $30 through this weekend and go up to $35 starting next week. Tickets include beer samples, custom glass and passport.
For additional information and to purchase tickets, visit the upcoming Beerwalk Eventbrite page.
Cyber Monday Special
Now through Monday, Nov. 27, take 25% off all currently scheduled 2018 Beerwalk events with the discount code: cyber2018
Sat., Feb. 10, 2018, 1pm: Downtown San Jose Beerwalk
Wed., Feb. 14, 2018, 6pm: Downtown Campbell Mini-Beerwalk Series: Stouts & Sweets
Thurs., Mar. 22, 2018, 5pm: San Jose Sharks and San Jose Breweries Mini-Beerwalk Series: Locals Only
Wed., May 2, 2018, 6pm: Downtown Campbell Beerwalk
Sat., June 9, 2018, 2pm: Japantown Sakewalk
Wed., July 25, 2018, 6pm: Ciderwalk
Sat., Oct. 27, 2018, 2pm: Downtown Willow Glen Beerwalk
To purchase tickets, visit The Beerwalk site to select the particular event(s).