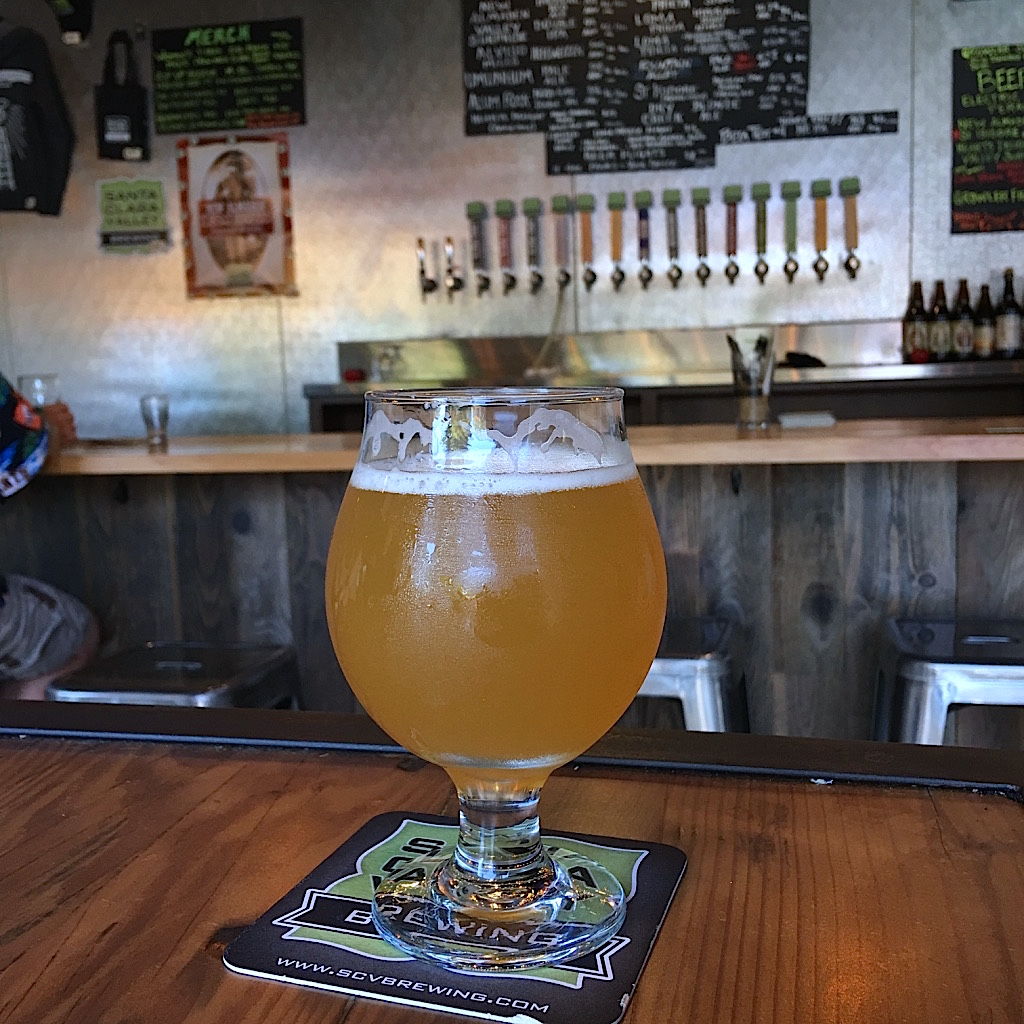 The 10th annual SF Beer Week is coming up quickly, with the Opening Gala kicking off the festivities on Friday, Feb. 9 in San Francisco.
A quick check of the SF Beer Week Schedule page shows over 100 events taking place in the South Bay region – which includes the Peninsula – and hundreds more throughout the rest of the Bay Area.
Local participating breweries include:
Alpha Acid Brewing Company
Blue Oak Brewing Company
Campbell Brewing Company
Clandestine Brewing
Das Brew
Devil's Canyon Brewing Company
El Toro Brewing Compant
Freewheel Brewing Company
Golden State Brewery
Gordon Biersch Brewing Company
Half Moon Bay Brewing Company
Hapa's Brewing Company
Hermitage Brewing Company
Highway 1 Brewing
Hop Dogma Brewing Company
Loma Brewing Company
Palo Alto Brewing Company
Sacrilege Brewing + Kitchen
Santa Clara Valley Brewing
Strike Brewing Company
Uproar Brewing Company
Local establishments and organizations hosting events include:
7 Bamboo Lounge
20twenty cheese bar
Ale Arsenal
Armadillo Willy's BBQ Foster City
Armadillo Willy's BBQ Los Altos
Armadillo Willy's BBQ San Jose
Armadillo Willy's BBQ Sunnyvale
Beach Hut Deli (San Felipe Rd., San Jose)
Beerwalk
Fibbar Magees
Gourmet Haus Staudt
Grape & Grain
Harry's Hofbrau Redwood City
Harry's Hofbrau San Jose
IBU Taproom & Bottle Shop
Jack's Bar & Lounge
Jane's Beer Store
Nom Burger
Original Gravity Public House
San Jose Walks & Talks
SmokeEaters Santa Clara
South Winchester BBQ
Spread Deli & Bottles
Steins Beer Garden & Restaurant Mountain View
Taplands
TAP'T Beer & Kitchen
The Cider Junction
The Halford
The Refuge Menlo Park
The Refuge San Carlos
The Rose and Crown
Timber & Salt
Below is a roundup of some standout, South Bay-centric events scheduled to take place the first half of Beer Week through Wed., Feb. 14. I'll post Part 2 with the rest of the roundup in a few days.
It's great to see so many options, especially since we all have our own preferences. Don't forget that there will be even more events sure to be added in the coming days.
Sat., Feb. 10: Wake & Break(fast) at Taplands
What: Taplands will be offering special foods to pair with a growing lineup of hearty breakfast and coffee beers in a variety of styles. It's their most popular event of the year. 10am-1pm. SFBW page.
Where: 1171 Homestead Rd., Santa Clara
Sat., Feb. 10: 17th Double IPA Festival at The Bistro
What: The original kickoff to SF Beer Week, over 60 Double and 30 Triple IPAs on tap. A professional competition with awards ceremony at 3 pm. Live music on 2 stages, cheese tastings, grilled sausages and frickles. A bunch of South Bay folks head up 880 for this event. 11-4pm. $55. SFBW page.
Where: 1001 B St., Hayward
Sat., Feb. 10: Alum Rock Double IPA Can Release at Santa Clara Valley Brewing

What: Alum Rock NE DIPA will be back on draft and in 16-oz. cans. This limited beer is juicy and hazy, and features tropical fruit notes complemented by citrus-like hop flavors and aroma. Food from Emergency BBQ Company will be available for purchase, including ribs, tri-tip, mac-n-cheese and slow-smoked pulled pork. 12-8pm. SFBW page.
Where: 101 E. Alma Ave., San Jose
Sat., Feb. 10: Clandestine Brewing Grand Opening
What: Featured events include a ribbon-cutting ceremony with the City of San Jose, limited-release beers, food truck and prize give-aways throughout the day, including a grand prize of a membership into their exclusive Secret Agent growler club. Prizes are only for those present. Hours extended from 12-10pm. SFBW page.
Where: 980 S. 1st St., San Jose
Sat., Feb. 10: South Winchester BBQ Hosts Triple Threat: Cellarmaker, Green Cheek & Highland Park
What: Come talk beer with the founders/brewers of all three breweries while enjoying one of several culinary collaborations, including Vastness of Space BBQ Sauce, Chicken Chorizo IPA Sausage, and Mac & (Beer) Cheese. Cellarmaker beers: New Beer Smell – Pale Ale, Dobis + – IPA, Coffee and Cigarettes – Smoked Porter and Bourbon Vanilla Latte Vastness of Space. Other brewery beers TBD. 12pm-5pm. SFBW page.
Where: 1362 S. Winchester Blvd., San Jose
Sat., Feb. 10: Downtown San Jose Beerwalk
What: Explore the unique shops, studios and restaurants in downtown San Jose while sipping on great beers and enjoying the social enthusiasm of shopkeepers and beer lovers alike. 1-4pm. $35-40. The Beerwalk website.
Where: Check-in at Local Color, 27 S. 1st St.
Sat., Feb. 10: Beer and Cookies at Strike Brewing Company
What: Join Strike Brewing for an afternoon tasting of four Strike beers, each paired with a Girl Scout cookie. There will be a special release of two of their Big Wall Imperial Stout variants and their newest release Willie Haze, a NE style IPA. 2-6pm. SFBW page.
Where: 2099 S. 10th St., San Jose
Sat., Feb. 10: 2 Towns Cider Tap Takeover and Release at The Cider Junction
What: 2 Towns Cider is taking over 8: New cider release Pacific Pineapple, special and rare barrel-aged Nice & Naughty, special Traditions Series cider Riverwood, two seasonal ciders Hop & Stalk and Serious Scrump, limited release cider Man Goh and two flagship ciders. Flights and single pour specials. 5-9pm. SFBW page.
Where: 820 Willow St., Ste. 100, San Jose
Sat., Feb. 10: A Bay of Our Own Release – SF Beer Week 2018 Collaboration, Monterey Bay at The Halford
What: The Halford hosts a special beer release: A Bay Of Our Own (Salted Caramel Stout), one of the official SF Beer Week 2018 collaboration beers bringing together a dozen breweries from the Monterey Bay and Santa Cruz areas, including New Bohemia Brewing, East Cliff Brewing, Uncommon Brewers, Brewery Twenty Five, Alvarado Street Brewery, Corralitos Brewing, Santa Cruz Mountain Brewing, Shanty Shack Brewing, Humble Sea Brewing, Steel Bonnet Brewing Company, Seabright Brewery and Discretion Brewing. Look for a small-bites food menu for the event. 7pm-12am. SFBW page.
Where: 1494 Halford Ave., Santa Clara
Sat., Feb. 10: Blind Barrel-Aged Beer Takeover at Harry's Hofbrau Redwood City
What: Two days of a unique event to blindly taste some of the best barrel-aged beers in the country. Flights will be available. Consumers can vote for their favorites. Beers to be revealed Sunday evening at 7pm as well as the top vote getters. SFBW page.
Where: 1909 El Camino Real, Redwood City
Sun., Feb. 11: Barrel Aged Sundae at SmokeEaters Santa Clara
What: No mimosas today. Just some full-bodied stouts that have been aging for quite some time. Order any of the following beers for a scoop of vanilla ice cream: Dogfish Head World Wide Stout '16, Dogfish Head Vanilla World Wide Stout '17, Oskar Blues Java Ten Fidy '15, Founders CBS '17 & KBS '17 and more. SFBW page.
Where: 3175 Mission College Blvd.
Sun., Feb. 11: Breakside Brewery at Taplands
What: Taplands serves as the launch site for Breakside Brewery in the South Bay. Brewers will be on hand from 2-4pm. SFBW page.
Where: 1171 Homestead Rd., Santa Clara
Sun., Feb. 11: Historic Breweries, Bars & Brothel Tour in Downtown San Jose
What: Take a walk back in time, when San Jose lived up to its reputation as a drinking town. An alcohol-themed walking tour will cover San Jose's drinking past and introduce what's brewing in the present. This interactive stroll will visit former brewery locations, introduce famous brews and infamous drinkers. The tour has sold out in the past so sign up early to avoid the wait list. You MUST register in advance to receive the exact starting point for the tour. 2-4pm. $15. Evenbrite page.
Where: TBD – see above.
Sun., Feb. 11: Yeast Class – Lecture & Tasting at Santa Clara Valley Brewing
What: John LaPolla, NYC craft beer pioneer and owner of Brooklyn's Bitter & Esters Homebrew and Brew On Premises, will be explaining everything you've always wanted to know about yeast. Did you know that most of the flavor of beer comes from the strain of yeast used in fermentation? In this class we will delve into the wonderful world of brewers yeast, including a history and usage of yeast and how it affects the flavor of your beer. Tastings and discussions to take place after the talk. 2-5pm. $70. Eventbrite page.
Where: 101 E. Alma Ave., San Jose
Mon., Feb. 12: Drake's Hopocalypse Event at Wicked Chicken
What: 6 kegs from Drake's to be tapped, including Black Label Hopocalypse, Green Label Hopocalypse, Cherryland Sour, Rye Robustito Barrel Aged Porter and Papa Roy's Peche. 2-11pm. SFBW page.
Where: 2565 The Alameda, Santa Clara
Mon., Feb. 12: From Our Cellar with Love at Good Karma Artisan Ales & Cafe
What: Join Good Karma as they dig into their cellar for beers from The Bruery/Terreux, including Sour in the Rye w/Passionfruit, Orange & Guava, 2016 Wanderer, Vindictive II, Zesty Mounds, 2015 Oude Tart, 2015 Tart of Darkness, Bouffon (collab w/ Jester King), White Chocolate and more. Look for specialty paired pizza as well. 3-10pm. SFBW page.
Where: 37 S. 1st St., San Jose
Mon., Feb. 12: Half Moon Bay Brewing Takeover at Taplands
What: Taplands will be featuring single, double, and triple IPAs – all made in collaboration with other Bay Area breweries – along with a few special releases from Half Moon Bay Brewing. 5-10pm. SFBW page.
Where: 1171 Homestead Rd., Santa Clara
Mon., Feb. 12: An Evening with Our Pals Temescal Brewing at Original Gravity Public House
What: Fresh offerings from Oakland's Temescal Brewing, plus Original Gravity will be the first to pour – even before he brewery – a very special pre-release SFBW beer on draft. Current beer lineup for the event: Lite Idea – Blonde Ale w/ Mosaic, Mandarina Bavaria & Motueka, Neon Gold (Hoppy Blonde Ale w/ Mosaic & Ekuanot), Settle In (Robust Porter), Around Town (IPA w/ Zeus, Chinook, Crystal & Comet), Wonder Why (IPA w/ Citra, Simcoe & Laurel) and Big News Imperial IPA w/ Mosaic & Motueka. 6-10pm. SFBW page.
Where: 66 S. 1st St., San Jose
Mon., Feb. 12: Hops Class – Lecture & Tasting at Santa Clara Valley Brewing
What: NYC craft beer pioneer John LaPolla will be explaining everything you've always wanted to know about hops. Hops are wonderfully diverse and are used for multiple purposes. Each variety imparts a uniquely different scent and flavor – from spicy, citrusy, pine-like, earthy to floral. Learn how hops are used for flavoring, bittering, and preserving beer and leave with a deeper appreciation for the world of hops. Afterwards we will taste four beer samples and discuss the hops role in the flavor profile of each beer. 7-10pm. $70. Eventbrite page.
Where: 101 E. Alma Ave., San Jose
Tues, Feb. 13: Nuclear Meltdown on Dempsey at IBU Taproom & Bottle Shop
What: IBU hosts an event featuring El Segundo Brewing Company and their hop-forward offerings. On tap: Power Plant TIPA, Nuclear Power Plant TIPA, Blurred Lines Hybrid IPA and Cerveza Fresca IPA (Hazy w/ Guava). 3-10pm. SFBW page.
Where: 1422 Dempsey Rd., Milpitas
Tues., Feb. 13: Beers around the Bay at Steins Beer Garden & Restaurant Mountain View
What: Steins Mountain View will be showcasing offerings from local Bay Area breweries, including Fieldwork, Fort Point, Barebottle and Altamont.
Where: 895 Villa St.
Tues., Feb. 13: Drakeslands at Taplands
What: Taplands will transform into Drakeslands and will be pouring both familiar and specialty beers from San Leandro's Drake's Brewing Company, including a limited amount of a special collaboration between Taplands and Drake's. 5-10pm. SFBW page.
Where: 1171 Homestead Rd., Santa Clara
Tues., Feb. 13: Beer Can Cornhole Tournament at Jack's Bar & Lounge
What: Have fun while competing in teams for giveaways and prizes. 6-9pm. $10. Eventbright page.
Where: 167 E. Taylor St., San Jose
Tues., Feb. 13: Trivia Tuesday – Beer Edition at 20twenty cheese bar
What: Test your beer knowledge and compete for prizes galore. 7-9pm. SFBW page.
Where: 1389 Lincoln Ave., San Jose
Wed., Feb. 14: IPA Day at The Rose & Crown
What: The Rose & Crown will be showcasing the art and the styles of the IPA, including singles, ryes, doubles, and even triples. This is also the day they tap a very special brew, for which a line forms early (usually 8am). 11:30-7:30pm. SFBW page.
Where: 547 Emerson St., Palo Alto
Wed., Feb. 14: I <3 MWS at Clandestine Brewing
What: Make Clandestine Brewing your date on Valentine's Day. They will be featuring at least 10 different versions of Milky Way Stout: Coffee MWS, Peanut Butter MWS and Barrel Aged MWS, to name a few. 4-10pm. SFBW page.
Where: 980 S. 1st St., San Jose
Wed., Feb. 14: Barebottle Homebrew Competition at Floodcraft Brewing Company at Whole Foods Market on The Alameda
What: Have a say in picking the winner between two contenders in Barebottle's "Magic in a Bottle" contest. Every customer that orders the two-beer flight will get to vote for their favorite beer. 5-10pm. SFBW page.
Where: 777 The Alameda, San Jose
Wed., Feb. 14: Beer, Chocolate and Love – My Favorite Things at Fibbar Magees
What: Per Fibbar Magges: "Come join us in the Abyss where our hearts are black and our beer is blacker. There will be nothing sweet about this vertical flight of Abyss Imperial Stouts except the dessert we pair with it." On tap will be Deschutes Abyss 2014, Deschutes Abyss 2015, Deschutes Abyss 2016, Deschutes Sav Pinot and other delicious tasty treats from Deschutes. Vertical flight of Abyss comes with a tasty chocolate cake until supplies last. 6-10pm. SFBW page.
Where: 156 S. Murphy Ave., Sunnyvale
Wed., Feb. 14: Stouts & Sweets – Mini-Beerwalk in Downtown Campbell
What: Celebrate Valentine's Day by tasting 4 different stouts paired with 4 different sweets from local shops while visiting 4 different watering holes, including the first public look at Boiler Maker (formerly Liquid Bread Gastropub). 6-9pm. The Beerwalk website.
Where: 193 E. Campbell Ave.
Wed., Feb. 14: Fall Brewing & Fieldwork – California Love at Original Gravity Public House
What: Per Fieldwork's special request, Fall Brewing from North Park in San Diego will also be joining in on the fun as Original Gravity will have 5 beers on draft from each brewery and some sweet treats to pair with their beer. 6-11:30pm. SFBW page.
Where: 66 S. 1st St., San Jose