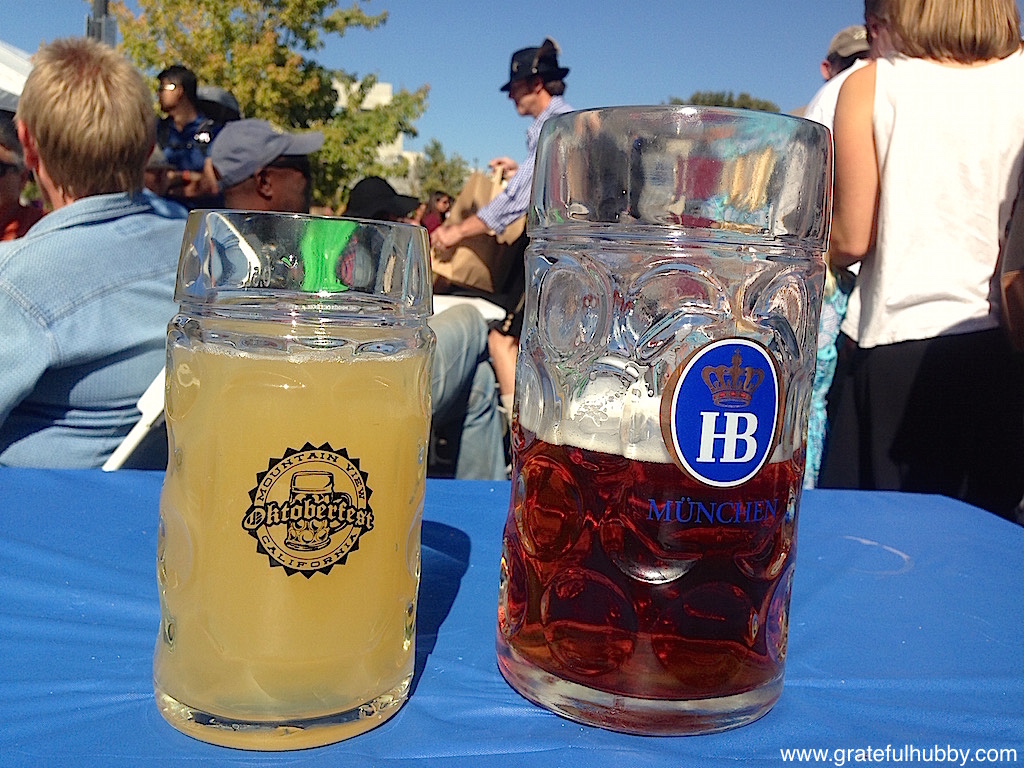 Oktoberfest in Munich takes place from September 17 to October 3 this year, and I'm sure there are many like me who wish they were going but won't be.
Fortunately, there are a number of local, Oktoberfest-inspired events and celebrations taking place throughout San Jose and nearby, providing plenty of opportunities to enjoy German and German-style beer and food in a festive atmosphere. Many of the Oktoberfest celebrations will also feature live entertainment and family-friendly activities.
Below is a roundup of this year's local Oktoberfest events listed by date. I'll add to it as new ones come to my attention. Please let me know if I'm missing any. Prost!
Fri., Sep. 9 – Sun., Sep. 11: Redwood City Oktoberfest
What: For 3 days, downtown Redwood City will celebrate their 3rd annual Oktoberfest. There'll be a huge tent with lots of seating, music (AlpinersUSA), dancing, contests and lots of beer, beverages, food and more. An entrance fee ($18-$20 and $10-$12 for kids & designated drivers) includes a commemorative stein and 1 drink ticket.
Where: Courthouse Square, Redwood City
More info.: www.redwoodcity.org
Fri., Sep. 9 – Sat., Oct. 29: Teske's Germania
What: German fare and special Oktoberfest evening celebrations on Fridays and select Saturdays from Sep. 9 to Oct. 29 featuring music from The Family Gruber Band and The Internationals.
Where: 255 N. 1st St., San Jose
More info.: http://teskes-germania.com/
Sat., Sep. 10: Jack Rose Libation House
What: 4th annual Oktoberfest from 4pm-9pm with live music from The Family Gruber Band plus German food and German beer. Admission to the beer garden is $10 for ages 21 and over, $5 for ages 13-20 and free for 12 and under. Feel free to come dressed in your best Lederhosen or Dirndl.
Where: 18840 Saratoga Los Gatos Rd., Los Gatos
More info.: http://jackrosebar.com/
Sat., Sep. 10: Gourmet Haus Staudt
What: Annual Oktoberfest celebration. Doors open at 11:30am. $5.00 entry fee. The Internationals start playing at 3pm.
Where: 2615 Broadway, Redwood City
More info.: http://www.gourmethausstaudt.com/
Fri., Sep. 16 – Sun, Sep. 18: Naglee Park Garage
What: Annual Oktoberfest from Sep. 16-18. They'll be serving German beers plus a special German menu and be hosting musical guests all weekend. Come casual or dressed in your most authentic German outfits and celebrate.
Where: 505 E. San Carlos St., San Jose
More info.: http://nagleeparkgarage.com/
Sat., Sep. 17 and Sat., Sep. 24: Ludwig's German Table
What: Get out your Lederhosen and Dirndl and join Ludwig's for Oktoberfest on Sep. 17 and Sep. 24 from 2pm-10pm. They'll be turning their restaurant into a traditional Munich style festival ground with live music and special Beer Garden & Restaurant ($28) and Hall ($35) tickets.
Where: 261 N. 2nd St., San Jose
More info.: http://www.ludwigssj.com/
Mon., Sep. 26 – Sat., Oct. 29: Faultline Oktoberfest
What: Oktoberfest festivities at Faultline Brewing Company kick off Mon., Sep. 26. This year, Fautline will feature an Oktoberfest beer release, a German-inspired menu and more to be announced.
Where: 1235 Oakmead Pkwy., Sunnyvale
More info.: http://www.faultlinebrewing.com/
Thurs., Sep. 29: Geektoberfest
What: The Tech Museum of Innovation presents Geektoberfest 2016, an annual event where brewers and scientists will explore the biology of beer with talks, demos and tastings. In conjuction with Geektoberfest, Content Magazine will host a Beer LAB event on The Tech's private rooftop terrace, featuring music, food and beer tastings available only to Beer LAB guests. Ticket prices vary from $18 to $100. Local participating brewers include DasBrew, FireHouse Grill & Brewery, Gordon Biersch Brewing Company, Half Moon Bay Brewing Company and Santa Clara Valley Brewing.
Where: 201 S. Market St., San Jose
More info.: http://www.thetech.org/geektoberfest
Sat., Oct. 1 – Sun., Oct. 2: Mountain View Oktoberfest
What: 4th Annual Oktoberfest – taking place Oct. 1 and Oct. 2 – presented by Steins Beer Garden & Restaurant, Tied House and the Mountain View Chamber of Commerce. They'll be taking over a part of Mountain View's Dana St. and Bryant St. with the parking lot, promising to be bigger and better than the previous years. There'll be German beer, good food and family friendly entertainment.
Where: Parking lot at Dana St. and Bryant St., Mountain View
More info.: TBA
Sun., Oct. 2: OktoBRAfest
What: The 3rd Annual OktoBrafest takes places at the San Jose Woman's Club from 3-6 pm. $25 tickets include a buffet of sausage, potato salad, sauerkraut, bread, dessert and one beer, cider or wine. Additional beverages are available for a suggested donation of $5.
Where: 75 S. 11th St., San Jose
More info.: http://www.sjwomansclub.org/
Sun., Oct. 9: San Pedro Square Market
What: Their 4th annual Oktoberfest celebration – their longest running event – returns with a new name – Oktober Beer & Music Fest – and promises to take things to a new level, featuring 3 bands this year and activating the entire Market instead of only the Sidewalk Cafe. The event will have games in different areas throughout the Market. Early bird tickets are $30 and will score you 3 beers instead of 2, but tickets do go up the longer you wait. From 2pm-8pm.
Where: 87 N. San Pedro St., San Jose
More info.: http://www.sanpedrosquaremarket.com/
Sat., Oct. 15: Peninsula Oktoberfest
What: From 11am-4pm, enjoy the annual Peninsula Oktoberfest at Hiller Aviation Museum. There'll be music (San Mateo Elks Band and Bayern Maiden), German beer and food trucks. There'll also be beers from Devil's Canyon, Voodoo Brewing and Anchor Steam.
Where: 601 Skyway Rd., San Carlos
More info.: http://www.hiller.org/event/oktoberfest-2016/
Sat., Oct. 15 – Sun., Oct. 16: Campbell Oktoberfest
What: Campbell Oktoberfest is hosted by the Campbell Chamber of Commerce, and it's an entire weekend of live music, tasty food, arts & crafts, a kids zone and – of course – beer. Featuring 4 stages of live music and dozens of food vendors. Oktoberfest dress encouraged.
Where: Downtown Campbell
More info.: http://campbellchamber.net/Oktoberfest/