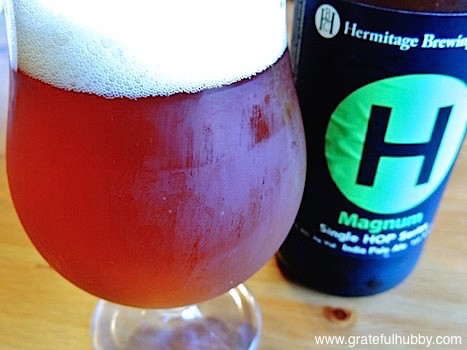 San Jose's Hermitage Brewing Company released Magnum Single Hop IPA last month, the latest in their ongoing Single Hop Series. Hermitage Brewing keeps the recipe essentially the same for its Single Hop Series offerings except for the hops, which then allows for the particular hop varietal's aroma and flavor to be showcased.
The Magnum hop is a versatile German varietal known for its bittering qualities and bitter characteristics. With a mild, floral flavor, Magnum adds a clean bitterness to IPAs, pale ales, pilsners, and other beer styles.
Hermitage Brewing lead brewer Greg Filippi comments, "Magnum hops are the traditional German bittering hop, known worldwide for their exceptionally "clean" bittering properties. We decided to put an age-­old brewing theory to the test: Most brewers and brewing references will tell you that Magnum hops possess no desirable aromas. We are happy to report that this is simply not true. Our Magnum IPA showcases the trademark bitterness of the variety at about 70 IBUs but doesn't stop there. Our hearty dry hopping lends a beautifully sweet, fruity aroma almost like juicy fruit gum, with evergreen notes reminiscent of pine or maybe fir trees."
During a recent, informal gathering of beer tasters, the Magnum Single Hop IPA scored positive feedback – an overall mellow, well-balanced IPA.
Hermitage Brewing began producing its Single Hop Series in 2011 and has since released seven single hop IPAs including Sorachi Ace, Galaxy, Simcoe, El Dorado, and the popular Citra. As most of these brews are made throughout the year depending on hop availability, look for them at your local establishments that carry craft beer.
[This post was shared on Examiner.com.]