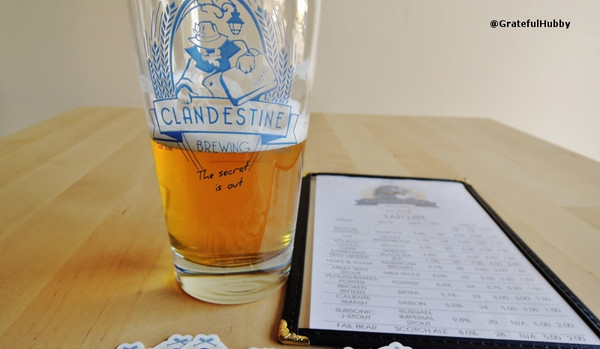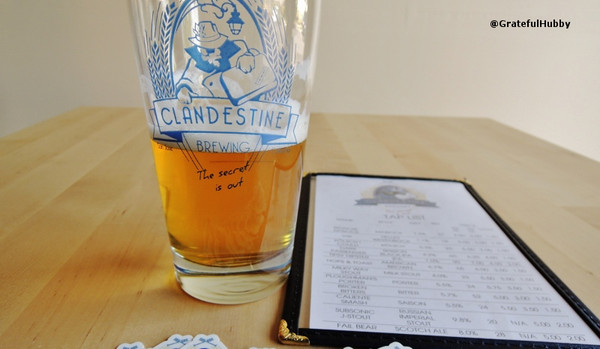 The number of Clandestine Brewing admirers has been spreading steadily ever since the public debut of their beers earlier this year at the annual Meet the Brewers Festival hosted by San Jose's Hermitage Brewing Company.
Clandestine is the South Bay's first nanobrewery with a tap room, opening their doors on May 30 in San Jose. During a visit to the tap room a week after their opening, co-founder Rob Conticello told me that Clandestine brewed on a half-Barrel (BBL) pilot system with a 3-BBL system setup in the works (1-BBL produces up to 31 gallons).
The smaller batch production provides a faster turnaround for the creation of their many, diverse offerings. Beer styles have included – among others – Maibock, Helles Weizenbock, Kölsch, Tripel with Anise, IPA/Cream Ale, Brett IPA, Gose, American Brown, Scotch Ale, Porter, Bitter, American Brown with Coffee, Milk Stout and Russian Imperial Stout.
The brewery and tap room – tidy, simple and modern with 12 taps – is located in a corner unit within a large industrial warehouse complex at 1805 Little Orchard St., Ste. 124, about two miles south of downtown San Jose. The tap room is currently open two days a week – Fridays 4-9pm and Saturdays 2-9pm – and serves as the only place to enjoy Clandestine beers. There are 4-oz. taster options as well as 300 ML and 500 ML options (about a 16-oz. pint) available for most of the beers.
Clandestine's website has detailed information on whichever beer is on tap. Of note are the extensive descriptions for many of the beers, often with historical information on the particular beer style. Bios of the five co-founders of Clandestine Brewing showcase extensive homebrewing experience and accolades.
Conticello said that Clandestine will look to offer their beers at select establishments, and that based on feedback, they were looking to open a third day during the week.
Oktoberfest at Clandestine Brewing
German beer styles have been featured consistently in Clandestine's weekly beer menu. Visitors will have a chance to enjoy up to nine German style beers as Clandestine celebrates their first Oktoberfest at the tap room on Fri., Oct. 10 from 4-9pm and Sat., Oct. 11 from 2-9pm.
Here is the Oktoberfest beer lineup:
Kölsch I Could (Kölsch)
zoomAlt (Alt)
VW (Helles Weizenbock)
BND (Hefeweizen)
Pils Off! (Hoppy German Pilsner)
Bignose Mybock (Maibock)
Brush Pass (Roggenbier)
Dead Drop (Munich Dunkel)
Gosed (Gose)
[This post was shared on Examiner.com.]