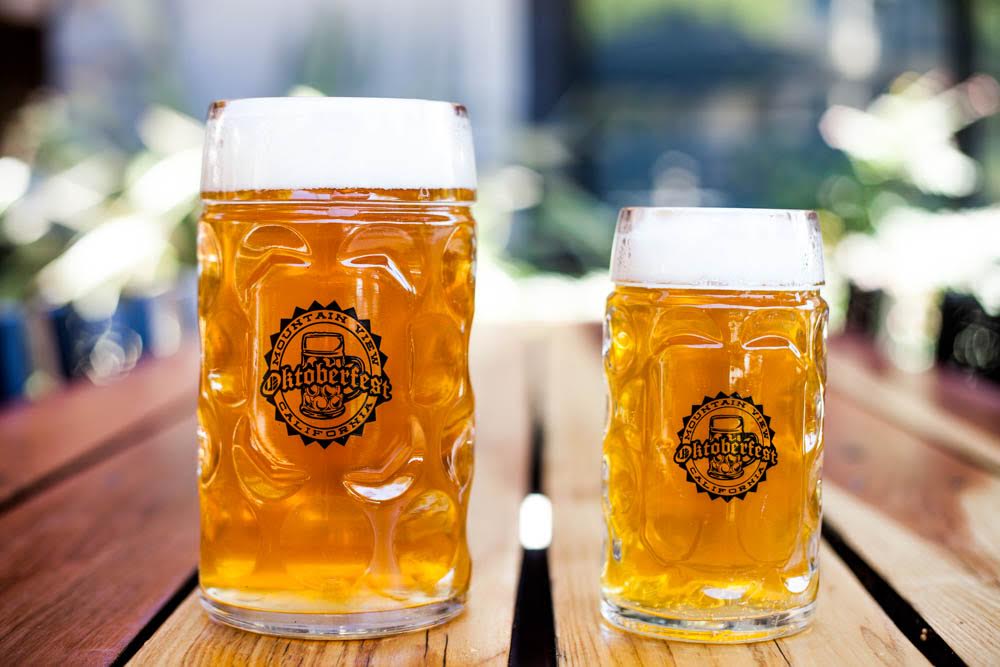 The 4th annual Mountain View Oktoberfest celebration is set for this coming weekend, Saturday and Sunday (October 1st and 2nd). It'll take place both days from 11am-7pm in the open-air parking lot located at Bryant Street at Dana Street, directly behind Steins and one block west of Castro Street. Each day will kick off with a ceremonial cask ale tapping at 11am.
I've said it before, and I'll say it again – the Mountain View Oktoberfest – in my humble opinion – is the biggest and best of the local Oktoberfest-themed celebrations.
Presented by Steins Beer Garden & Restaurant, Tied House Brewery & Cafe and the Mountain View Chamber of Commerce, attendance at this popular event is expected to be close to 7,000 for the weekend.
The celebration is Steins Beer Garden's take on the traditional German beer festival, with a 7,000 sq. ft. beer tent, traditional German fare, live entertainment and plenty of German beer.
Steins owner Ted Kim says about this year's festival:
"This year at the Mountain View Oktoberfest, guests will be able to choose from 8 different beer offerings: five authentic styles from German beer houses and three special brews from local breweries.
"Unlike years past, this year each beer house will be pouring from its own tent with proper signage. This way guests won't be confused as to which line to stand in, and it will help speed up the lines. Come out and join us for another fun-filled Oktoberfest!"
Tied House director of marketing Carolyn Hopkins-Vasquez adds:
"Mountain View Oktoberfest encompasses the true spirit of German Oktoberfest festivities with traditional German bands, food, beer and people from all walks of life enjoying the raucous celebration.
"We are proud to partner with Steins Beer Garden and Restaurant and the Chamber of Commerce Mountain View to bring this celebration to Silicon Valley for a fourth year."
Beer and Food
The following beers will be on tap:
Andechs Doppelbock
Fruh Kolsch
Hofbräuhaus Oktoberfest
Weihenstephaner Hefeweizen
Steigl Grapefruit Radler
South Bay Church Lemon Basil Hef
South Bay Church Apricot Hef
Tied House Oktoberfest Lager
A variety of food options will be available for purchase from different vendors, including Aroma Concessions, Gourmet Faire and traditional German dishes from Teske's Germania.
Prices
Commemorative steins with Mountain View Oktoberfest logo
$10 for 0.5-liter stein
$15 for 1-liter stein
Drink tickets:
$8 for 1 ticket
$30 for 4 tickets
1 ticket fills a 0.5-liter stein. 2 tickets fill a 1-liter stein. Attendees can bring their steins from past Mountain View Oktoberfest celebrations.
Food:
$6-$15 (depending on the dish)
Entertainment and Family Fun
There will be plenty of fun, family-friendly entertainment. Throughout the weekend, there will be live German music with performances by Big Lou's Accordion, The SF German Band and Alpiners USA. There will also be kid-friendly activities, including bounce houses, face painting and games, pretzel eating contest, chicken dance and more.
For a look at the entertainment schedule, visit the Mountain View Oktoberfest website.
Charity
A portion of proceeds from the event will benefit Community Services Agency, located in Mountain View, and SOAR, a partner charity with Chamber of Commerce Mountain View. Student Outreach Award Resource (SOAR) is known throughout the community for its financial help and scholarship awards for high school and community college students looking to advance their education. Community Services Agency is a non-profit serving low income individuals and families.
About Steins Beer Garden & Restaurant
Steins Beer Garden & Restaurant is the vision of Bay Area native Ted Kim. Kim has more than 20 years of small business experience, including his tremendous success with Northern California's Paris Baguette stores. Steins is a salute to the traditional European beer hall and garden, infusing rustic elements of nature with brilliant contemporary architecture. The Beer Garden will offer the perfect escape for guests to drink and socialize, and the Beer Hall will offer an ideal environment for guests to "eat, drink, and be merry." Steins is open every day, Sundays 11am-10pm, Monday-Thursdays 11am-11pm (patio closes at 10pm), Friday-Saturdays 11am-11:30pm (patio closes at 11pm). Steins is located at 895 Villa St., Mountain View, CA 94041. For more information, visit www.steinsbeergarden.com and visit the restaurant on Facebook and Twitter.
About Tied House Microbrewery
Tied House was founded in 1987, and poured its first pint in January of 1988. Nearly 30 years later, Tied House continues its loyalty to the community and provides a dynamic, fun space where guests continue to enjoy their favorite Tied House beer, and a handcrafted, laidback menu. Since 2010, Tied House acquired over fifteen awards for their beer, including back-to-back Gold Medals for Ironwood Dark from the California State Commercial Craft Brewers Competition. In 2015, Tied House earned a prestigious Great American Beer Festival Bronze Medal for its Alpine Gold Ale.
Additional photos below courtesy of Mountain View Oktoberfest: