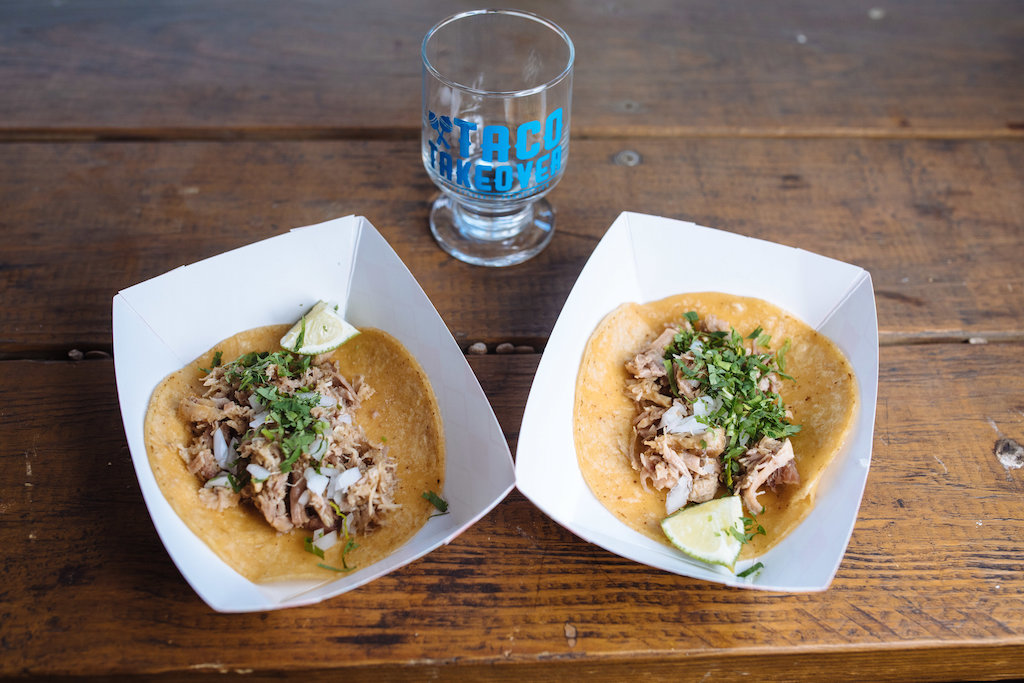 I didn't get to enjoy any tacos on National Taco Day today, but I'll be sure to make up for it this Saturday, Oct. 7 at the Taco Takeover festival taking place at the home of the San Jose Earthquakes – Avaya Stadium (1123 Coleman Ave.).
Taco Takeover is presented by Cannonball Productions – the same folks behind the popular Bacon and Beer Classic events – and will feature cocktails, beer and tequila samples paired with tacos from local restaurants, including original recipes from Olla Cocina, Tacolicious, Tacomania, Tacos el Pelon, Araujo's Mexican Grill and more.
A​ ​panel​ ​of​ ​judges​ ​- including yours truly – will​ ​be on hand to award​ ​the​ ​best​ ​tacos​.
There'll also be games and activities – bobbing for churros, nacho eating contest and more – and a live Mariachi band, not to mention the picture-perfect weather.
Kate​ ​Levenstien,​ ​founder​ ​of​ ​Cannonball​ ​Productions​ ​and​ ​the​ popular ​Bacon​ ​and​ ​Beer​ ​Classic,​ ​is​ ​thrilled​ ​to introduce​ ​Taco​ ​Takeover​ ​to​ ​foodies​ ​and​ ​tequila​ ​lovers​ ​across​ ​the​ ​country.
With recent Taco Takeovers having taken place in New York City and Dallas, Kate shares, ​"We​ ​know​ ​just​ ​how​ ​much people​ ​love​ ​bacon​ ​and​ ​beer,​ ​but​ ​the​ ​response​ ​we've​ ​seen​ ​to​ ​Taco​ ​Takeover​ ​is​ ​by​ ​far​ ​the​ ​most​ ​ecstatic yet.​ ​There's​ ​something​ ​about​ ​a​ ​refreshing​ ​margarita​ ​in​ ​one​ ​hand​ ​and​ ​a​ ​guac-topped​ ​taco​ ​in​ ​the​ ​other​ ​that is​ ​simply​ ​unbeatable.​
"We​ ​can't​ ​wait​ ​to​ ​bring​ ​this​ ​delicious​ ​combination​ ​to​ ​San​ ​Jose​ ​and​ ​beyond."
Tickets
Guests​ ​can​ ​choose​ ​from​ ​two​ ​2.5-hour​ ​sessions​ ​on​ ​Saturday.​ ​General Admission​ ​tickets​ ​are ​$59. ​ ​​VIP​ ​tickets​ ​are $75, good for ​half-hour​ ​early​ ​entry​ ​and access​ ​to​ ​an​ ​exclusive​ ​guacamole​ ​bar.​ ​All​ ​tickets​ ​include​ ​a​ ​souvenir​ ​tasting​ ​glass.
20% Discount Code
Use Discount Code "grateful" to receive 20% off both General Admission and VIP tickets.
For​ ​more​ ​information​ ​about​ ​the​ ​festival, visit the Taco Takeover website.
Cannonball Productions​ ​is​ ​committed​ ​to​ ​partnering​ ​with​ ​food​ ​recovery​ ​programs​ ​in​ ​every​ ​host​ ​city, ​and​ ​will​ ​donate leftover​ ​food​ ​from​ ​the​ ​San​ ​Jose​ ​event​ ​to​ ​the​ ​homeless.